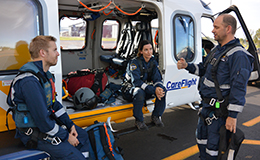 "Down the wire" is the process of winching down and up from a helicopter to locations otherwise inaccessible. It's a phrase that I associate with films involving Navy Seals, the SAS, and the effervescent Steven Seagal; not, and lets make this clear, me. So, you can imagine my surprise to find myself in a classroom, with an enthusiastic instructor, being informed I was part of the first group of doctors in the Northern Territory to undergo training on all things winching, the aim of which was to make us winch-ready for clinical retrievals. With raised eyebrows, I glanced across at my colleague and met a steely look of determination and an affirming nod. I altered my look to a mirroring middle-distance gaze, which seemed a fitting response.
First up was a series of videos demonstrating the use of winching in difficult terrain, highlighting how clinicians can be expertly slotted into the trickiest of locations. We were shown winches from 300ft down into crevasses, onto mountainsides and cliff edges, into forest clearings, and onto ships at sea. Then, both doctor and patient were winched up either in a neighbourly embrace, with a thumbs up, or with the patient on a stretcher and a protective doctor or nurse overlooking the ascent. This was quite cheering, and the idea of winching down onto Jim Jim Falls, or another spectacular NT feature, sounded pleasant enough.
After some theory, the basics were explained—these being the main things to take away:
1. Don't break the expensive winch hook (or look inside it! The hook is attached to the wire using a small ball bearing.)
2. Don't let any slack into the winch wire. This can lead to shock loading and cause it to snap, which, if you're hanging from it, can cause a few issues.
3. Finally, do not, and this was emphasised, fall out of the helicopter. Remember to keep yourself attached to some aspect of the helicopter at all times.
The basic pointers of winching down (called insertion) and then back up (recovery) were then explored and related to specific moments to trigger our memory. On insertion we were told to remember:
Exit safely/ Watch the Step (firm footing)/ 10 foot signal (on approaching the ground)/ Disconnect (when you've landed, preferably)/ Cable awareness (don't get knocked in the head by the cable as it returns upwards)
On recovery:
Earth the cable (to prevent static)/Connect yourself to the hook/Cable awareness (don't get tangled), Lift (keep your core strong whilst letting everything else go floppy)/ Fend (don't get knocked out by the helicopter as you head up)/Entry (enter safely and strap in)
We concluded the afternoon by watching several more videos on "when winching goes wrong." These are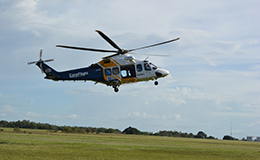 not to be watched on a full stomach, as it generally doesn't end well for either the wincher or the winchee. Winching really is a risky business, as you battle a whole host of problems. These include strong winds, large waves at sea, uneven weight distribution of those hanging below the helicopter causing them to spin viciously, or the enormous downward vertex winds caused by the rotary blades, which blow onto the very spot you are hoping to either drop onto, or be picked up from.
As the whole picture slowly came into focus, the reality of some of the isolated and treacherous situations that might be encountered hit home. But that doesn't fit with a steely gaze or confidant stance, so we strode assertively out to our real-life winching scenarios.
Toby Shipway is working as a retrieval registrar for Careflight based out of Darwin. He has taken a brief interlude from his anaesthetic training in the NHS to experience diverse pathology, a markedly different medical system, and some fantastic scenery along Australia's Top End.
Competing interests: None declared.