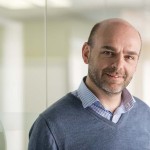 9.20am: I'm in London at WIRED Health 2015, "exploring the future of healthcare." Already I've bumped into a would-be investor and I've just had  a "power shot" of grapefruit juice spiked with chili. Now I'm browsing the exhibitor stands, which includes live demo of the elegant cream leather Tao chair which, according to its inventor and Tao Wellness CEO Viktor Kalvachev and its promotional blurb, is an "invisible gym in your living room" enabling me to work out different muscle groups while I sit at home.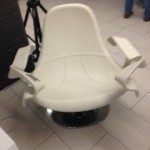 Viktor tells me about his chair's history. Unveiled last October at the global technology trade show CES in Las Vegas, he explains that he originally envisaged it appealing perhaps to older people recovering from surgery, or to the morbidly obese who felt intimidated attending gyms, but since then "gym dudes" have shown inters, seeing it as a continuation of their workout after arriving home. I try it out by exerting pressure on its curvaceous arms, while a dial records how many calories I'm burning up. It feels worlds away from the session I had with my trainer last night and I struggle to see how it will help me get fit. Viktor says a second version of the chair, modelled on the Eames design classic, is already in the pipeline.
11.15am Sophia de Oliviera Barata's alternative limb project prosthetics don't come cheap, she tells us in this morning's first main session, which means most recipients are rich or have private health insurance. Her clients include the "bionic pop artist" Viktoria Modesta, for whom she designed a pointed spike, a second one which lights up, and another incorporating stereo speakers.  Another client, Veronica, who lost a leg in a cycling accident, asked for a cyborg-themed "sexy and sleek" leg, which incorporates storage options.
Sophia works with product designers and uses 3D printing techniques from  her studio in Harlesden, north-west London. She was asked how more patients might benefit from some of her less outlandish designs, perhaps of the kind she designed for Ryan, a soldier who lost his leg clearing mines in Afghanistan. Ryan asked for a prosthetic limb that looked as much as possible as his lost leg. This involved using hair from the back of his neck.  Perhaps the future lies in sponsorship, she said, without logos being emblazoned across her creations.
Earlier Nigel Ackland described how in June 2006, he fell into an industrial blender during the course of his job as a precious metals smelter, necessitating an elective trans-radial amputation.
His bebionic hand provided a breakthrough after years of painful surgery, he said, enabling him to move a computer mouse and tie his shoelaces. among other things.
But more importantly, Nigel told the audience, his new state-of-the-art hand earned him the curiosity of people in the street, sparing him their ridicule and pity.
1.20pm Big data will relegate the importance of the RCT and transform journals such as The BMJ and NEJM in the next ten years, Martin Kohn, former chief medical scientist at IBM, told the conference.
Citing Don Berwick's 2012 JAMA paper, Eliminating Waste in Healthcare, Martin reminded the audience that 34% of US spending on healthcare is on things that don't work.
Better decision-making through personalised healthcare of the kind first advocated in Willoughby Lathern's 1968 NEJM paper, Individual Medicine,  will help solve the problem, he said, driven by access to big data and an acknowledgement that the randomised controlled trial is no longer "the gold standard."
Martin criticised RCTs for not recognising patients with multiple conditions which make study results unreliable and lead to innefficiencies. Far better, he argued, to utilise large datasets driven by computerised health records held by institutions such as the NHS and Kaiser's 8m patients in the US, although he warned that completely "clean" data in healthcare is a folorn hope. "We need to learn to live with data that is wrong and contradictory," he said.
Should analytics make decisions for doctors?  Can doctors be replaced by computers, as Sun Microsystems co-founder Vinod Khosla suggested in 2012? Martin referred to Harvard medical professor Warner Slack's reaction to this suggestion: "Any physician that could be replaced by a computer should be."
4.45pm
Adman Rory Sutherland knows how to solve over-demand at A&E departments. The answer, according to the Ogilvie & Mather UK vice chair, is to tell the BBC, ITV and other media outlets to start calling them Accident and Emergency departments again. "What we call things affects how people behave," he said, and doing so would communicate that they are a place of blood and screaming. This will make people will think twice before presenting.
The idea, he argued, stems from adoption of the "designed driver" concept to denote a named individual in charge of a vehicle. This gained currency in the US when Jay Winsten, from Havard's School of Public Health's Center for Health Communication, persuaded soap opera writers to use the term in its scripts.
Sutherland founded #ogilviechange, which, he explained, "solves the problems that ad agencies are never asked to solve," or in the words of its website blurb, has a "team of choice architects  who work alongside our active community of behavioural science experts, including leading academics…to provide our clients with the best behavioural thinking in the field."
In the session before we all gasped after seeing secret film footage of a nurse in Africa using the same syringe on three different patients, including a baby and a teenager with HIV and syphilis.
Presenter Marc Koska used the footage to illustrate the potential global impact of LifeSaver syringes, which can only be used once. The LifeSaver campaign was championed by WHO Director General Margaret Chan and launched in February this year.
Sutherland said that before the introduction of LifeSaver's syringes, clinicians faced two choices, but doing the wrong thing (re-using a syringe) was cheaper in the short term, although unsafe injections globally cost $535m in direct medical costs , and cause 1.3m early deaths.
David Payne is digital editor, The BMJ, and readers' editor.