• Jonathan Gornall writes about the tobacco industry's likely opposition to new UK plain cigarette packaging laws in the powerful feature, "Slaying the dragon: how the tobacco industry refuses to die." In the article, he provides powerful insight into the industry's methods for staying alive. These include development of new products, such as e-cigarettes, and working with sympathetic politicians to fight tobacco controls.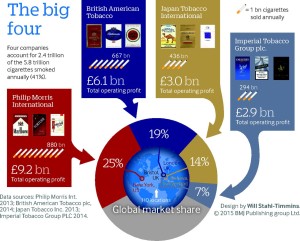 He reminds us of powerful words from the World Health Organization: "It's important to understand that tobacco products are the only legally available products that can kill up to one half of their regular users if consumed as recommended by the manufacturer." This feature is accompanied by a series of punchy infographics that highlight just how widespread and costly tobacco use truly is.
• While smoking is still the most frequently studied form of tobacco usage, younger populations and some ethnic groups may have different patterns of usage. This observations piece highlights recent data from the US National Youth Tobacco Survey, telling us that for the first time teens are using e-cigarettes ("vaping") more frequently than they're smoking actual cigarettes.
As the article points out, the take home message here may be more about what's in these products than who is using them: "The lack of regulations on e-cigarettes is what is shocking, not that 10% or 15% of teenagers are experimenting with them."
• In an editorial, Wasim Maziak tells us that tobacco waterpipe smoking is also on the rise in Middle Eastern teens, at the same time as cigarette smoking has been either stable or declining globally. The waterpipe, also known as shisha, hookah, or narghile, has been associated with a unique set of health risks, including carbon monoxide poisoning.
Despite this, "waterpipe smoking is still exempt from, or flying under the radar of, most tobacco control policies." The editorial concludes that we are in need of a clear and comprehensive regulatory approach to waterpipe usage.
• Smoking remains a serious health problem at the other end of the lifespan as well. In an individual participant meta-analysis including over 500 000 participants, Ute Mons and authors from the Consortium on Health and Ageing: Network of Cohorts in Europe and the United States (CHANCES) show that smoking is an independent risk factor for cardiovascular disease and mortality in older adults. While this relationship is well established in younger populations, this study extends those findings to an older population and suggests that adults over the age of 60 will also see health benefits from quitting smoking.
Rebecca Burch is associate editor for The BMJ.