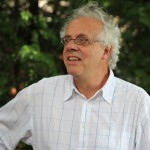 Physicians and surgeons across Asia, Africa, and Latin America spend their time putting a price tag on human life, said Devi Shetty, cardiac surgeon and chairman and founder of Narayana Hrudayalaya Hospitals, at the World Summit on Innovation in Heath in Doha last week. His mission is to reduce the costs of health to make healthcare available to as many people as possible.
Every day, Shetty says, he puts a price tag on human life. In Bangalore he sees 60 to 100 people a day with heart disease. Half of them are children, usually babies. They sit on their mother's knee, and Shetty tells the mothers that their babies have holes in their hearts. He says they need an operation that will cost $1000. If they have the money, their babies will live. If they don't, they will die. (He was perhaps being overdramatic here—because his hospitals have ways of providing care to those who can't afford it.)
A thousand dollars is perhaps 5% of what such an operation would cost in the United States, and it's much cheaper than the cost in other hospitals in India. Shetty is famous for having drastically reduced the costs of surgery through economies of scale and cycles of innovation. But, he said, if a solution to a patient's problem is not affordable it's not a solution.
India has around two million people a year who need heart surgery. Currently about 120 000 people receive an operation. The rest die, usually slowly. Shetty's group now has 29 hospitals in India, and they do 12% of all the heart surgery. The aim is to be able to do a heart operation for $800. The hospitals are getting closer but are not there yet.
In an attempt to allow more people to be able to afford an operation Shetty's group has started an insurance scheme. It started with 1.7 million farmers paying 11 cents a month, the cost of a packet of local cigarettes. Now the scheme has four million people paying 22 cents a month. The scheme is only for surgery, and consequently has little fraud: nobody, said Shetty, who doesn't need one wants an operation.
But complex surgery can be done only in hospitals, and India doesn't have enough hospitals. In the United States it costs about $600 million to build a hospital, and it takes two years. Shetty's group set a construction company the challenge of building 300 bed hospitals in India for $6 million in six months. Importantly only the operating theatres and intensive care unit have air conditioning. The company has met the challenge, and the first hospital has done 200 heart operations.
Another challenge is caring for people when they are discharged home after surgery. Shetty and his team have trained partners in four hours to provide all their care, including physiotherapy, and the readmission rate has dropped drastically. The cost was nothing. Another innovation that has cost nothing is to use simple technology to virtually eliminate pressure sores after surgery.
"Lots of money in the bank means that the brain stops working," said Shetty. One of the costs of surgery is the gowns of the surgeons. Ideally they are disposable because they are often drenched in blood after an operation. Disposable gowns currently available cost about $100 per operation, but Shetty promised young entrepreneurs 12% of the Indian market if they could produce gowns for $12 an operation. Founding a company called Amaryllis, they succeeded and are now on the way to making the gowns for $6.
The most radical and much needed reinvention of healthcare will come, believes Shetty, from information technology. His 29 hospitals collect real time data on the numbers and costs of operations and feed the information to the surgeons. Financial data available days after the end of the month is no more use, he said, than a post mortem; in contrast, real time data is diagnostic information and allows treatment.
Shetty showed a picture of a paraplegic man sat at a computer who was not able to find work because of his disability. The man was on warfarin and learnt a great deal about adjusting the dose. Now, using an algorithm, he advises 300 to 500 patients a day from around the world on adjusting their warfarin dose. Costs are lowered, and the man has a job.
Another picture showed a woman using a mobile phone while her child sat beside her. The woman was a diabetologist, but like many female doctors gave up her job to look after her children. Information technology, said Shetty, allows her to look after hundreds of patients a day.
Shetty believes that much of healthcare could be carried out through online consultation and self care supported by information technology. Diagnostic and treatment centres could carry out any interventions needed.
Some might criticise Shetty for having a cardiac surgeon's view of the world and underplaying the importance of human interaction and primary care. Plus we heard nothing of his mistakes, the inevitable partners of successful innovations. But his disruptive successes, his charisma, and the clarity of his vision mean that he's a man who must be listened to. He has what it takes to achieve great things, but the biggest barrier to his vision of a world where affordable healthcare can be available to all is the shortage of health workers. See the next blog.
Competing interest: Like everybody else at the conference RS had a business class fare to the conference and three days in a posh hotel paid for by the Qatar Foundation, to which the WISH conference belongs.
Richard Smith was the editor of The BMJ until 2004. He is now chair of the board of trustees of icddr,b [formerly International Centre for Diarrhoeal Disease Research, Bangladesh], and chair of the board of Patients Know Best. He is also a trustee of C3 Collaborating for Health.