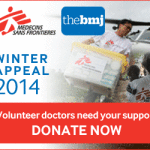 The US Centers for Disease Control and Prevention is recommending that doctors start telling uncircumcised sexually active teenage boys they can reduce their risk of contracting HIV and other sexually transmitted disease if they have the surgery. The draft proposal also applies to adult heterosexual men and for expectant parents as they decide about newborn circumcision.
The BMJ's US correspondent Mike McCarthy reminds us that the CDC tempers its proposed guidance by noting that the decision to undergo circumcision is "made in the context of not only health considerations, but also other social, cultural, ethical, and religious factors."
The recommendation is long overdue, says Dr (Lieutenant Colonel) Rajesh Chauhan, a consultant in family medicine in Agra, India.
He reminds readers in a response submitted over the weekend that he made the same point to The BMJ in 2005, based on his work in Botswana.
He adds: "For the CDC to have arrived at [the] same view after all this time does mean a lot to me, and my observations that were made almost two decades ago. Finally, I would like to reiterate that the best results would be obtained only if circumcision is carried out in childhood."
Christopher Lees, a consultant in obstetrics and foetal-maternal medicine in London, is another doctor waiting for official pronouncements, but in his case it's for a long overdue report from the General Medical Council about suicide.
Dr Lees has mentored many doctors through GMC and other disciplinary procedures, and notes the damage many suffer through the protracted investigative process, saying that around one doctor a month under investigation takes their own life.
He adds in his weekend response: "If these were deaths in custody, every case would be investigated thoroughly. Apparently not so for doctors. The GMC investigation report into suicides is awaited, and awaited, and awaited." He concludes: "We have a long way to go in forging an open, transparent NHS, where a willingness to learn from mistakes goes hand in hand with an acknowledgement that to err is human and does not amount to negligence—or 'impairment to practice'."
The debate about doctors' role in nutrition, triggered by an Editor's Choice article published 11 days ago, rumbles on,
In his response, Somerset GP Andrew Tresidder blames medical schools' obsession with the wonders of science for the failure to include more than a single day on nutrition in medical school curricula, "compared to hundreds of hours on interventions, pharmacological or otherwise."
This, he adds, "is an abrogation of responsibility in which our profession unfortunately colludes. That the nutrition of health has passed by the notice, until now, of those who set and implement curricula, is unfortunate."
"The explanation of course is simple—the wonders of science and progress continue to dazzle us, and make us forget basic principles of health and wellbeing. However, as the Chinese proverb says, man who looks at sky from bottom of well sees only small part of sky."
And finally, we took delivery of some online banner ads last week to publicise The BMJ's Christmas charity appeal. You can find out more here, or go straight to the donation page here. I chose the ad as the picture to illustrate this blog, rather than my middle aged face!
David Payne is digital editor, The BMJ, and readers' editor.