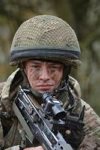 In my day job I work as a foundation year 2 junior doctor in Oxfordshire, but for the past seven years, I have also been a serving Army Reservist. Last weekend saw my unit, 144 Parachute Medical Squadron, deploy to Longmoor Training Area in Hampshire on a training exercise called Ex Green Serpent.
The weekend was packed with patrolling, care of casualties while under fire, radio use and signalling, mine awareness, and countering improvised explosive devices—with exercises practised during the day, as well as at night in complete darkness, reflecting the harsh realities of conflict.
Living out in the field, we were exposed to the elements throughout a wet and cold weekend.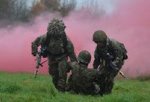 We survived entirely upon kit carried on our person, with training focused on refreshing and improving core soldiering skills. Despite being a dedicated medical unit, these skills are essential for us to fulfil our role and work as a tight, coherent team. This is vital training, allowing us to slot in alongside our regular counterparts—should the need arise—on operations either abroad or in the UK.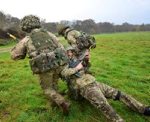 As a troop commander, I lead around 30 soldiers divided into three sections into the field, commanding and looking after them during the remainder of our time out there. This seems a far cry away from my day job, but the chains of command inherent within the army are not too far away from the systems of consultants, registrars, juniors, etc.
The leadership, time management, communication, and team working skills I have gained have greatly benefited me in doing my day job as a junior doctor. And it is these skills that are often praised by employers, especially within the NHS. Serving doesn't come without some commitment though, and training tends to take place during otherwise free weekends and evenings, or during my own annual leave.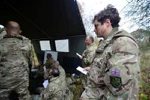 The experiences that I have had in the army are like no other. In the last month alone I have completed the military's basic parachute course at RAF Brize Norton. "Earning my wings" ranks alongside passing finals and graduating as a doctor. It's been tough, and I have been taken out of my comfort zone at times, but it's nothing that either myself or anyone else can't accomplish.
It was with great honour that I represented my regiment at the Service of Remembrance at Westminster Abbey. I have also trained across the UK and overseas, in countries such as France, the Netherlands, and Norway—gaining skills from a wide range of people. With reservists now able to deploy in any role that a regular can, there are plenty more opportunities for travel to come.
The resilience gained from these experiences will stick with me forever. If I can successfully treat a casualty while soaked through, tired, and lying in a ditch in the dead of night, then suddenly a long hospital shift on-call doesn't seem so bad.
Will Stevens is a foundation year 2 doctor in Oxfordshire, and a Captain with 144 Parachute Medical Squadron, 16 Medical Regiment.
Competing interests: None declared.