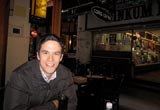 Up to this day, I'm still often asked by friends when I am going to become a specialist, considering I am "just" a GP. It remains difficult for lay people to understand and acknowledge that GPs master a trade of their own, just like hospital specialists, and are not just doctors who didn't pursue any specialist training beyond their primary medical qualification. In fact, general practice is considered a specialty in most (but not all) European countries.
But I worry when I read testimonials such as a recent blog written by Samir Dawlatly, a UK based GP, who argues that the term "general practitioner" is vague in itself. He calls for GPs to be renamed "general medical practitioners"—to reflect the fact that GPs usually provide general medical services.
I wonder if this will only cause even more confusion, as GPs are also known as—depending on the geographical jurisdiction—general clinicians, family physicians, or family practitioners. To make it even more confusing, general practice is known as family medicine in the US and Canada, family and community medicine in countries such as Spain and Brazil, or general and family medicine in Portugal.
The acronym "FDAAA 801" is probably not familiar to many readers of The BMJ, but it stands for US Food and Drug Administration Amendments Act section 801. This is a piece of American legislation that enforces the posting of the main results of prospectively registered phase II to IV clinical trials involving at least one US site—and regardless of the primary country of origin of the trials—on the register ClinicalTrials.gov. A recent research paper looked at the impact of sending emails to authors of prospectively registered trials on ClinicalTrials.gov that did not comply with the FDAAA 801, reminding them of the legal requirement to post results. Authors found that, among the 190 trials randomized to receive the email intervention, the rate of posting results differed significantly at six months (the secondary outcome), but not at three months (the primary outcome).
Going back again to potentially vague words, the expression "integrated disease management" may not be enlightening at first glance. Jean Bourbeau defines it as a "system of coordinated healthcare interventions and communications for patients with chronic disease in which self-management by patients is important." He was alluding in a linked editorial to a research paper that found integrated disease management delivered in primary care to patients with COPD was no better than usual care at improving quality of life.
Medical jargon is complex and riddled with nuances. At The BMJ, we will continue to strive for clarity in everything we publish in order for you to get the most out of the pleasant reading and interactive experience The BMJ provides.
Tiago Villanueva is assistant editor, The BMJ.