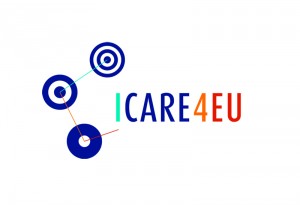 The ICARE4EU project wants to improve the care of people who are suffering from multiple chronic conditions. It will describe, analyse, and identify innovative integrated care models for people with multimorbidity in 31 European countries, and aims to contribute to the more effective implementation of such models. During the project (which runs from 2013 to mid 2016), members of the ICARE4EU consortium will keep readers of The BMJ informed about project developments. Previous project blogs can be found here.
To improve the care of people with multiple chronic diseases, professionals will have to take a new direction. From the patient's perspective, the current fragmented care systems often look like a labyrinth, in which patients wander along many criss crossing paths to find the services they need. Integration that emphasizes interdisciplinary and multi-professional collaboration will hold a key position in the development of care practices that can meet the needs of multimorbid patients.
In the ICARE4EU project, we have so far identified over 140 innovative, integrative care programmes and practices in a total of 31 different countries. The questionnaires that describe these programmes in detail—filled in by the programmes' project managers or by country experts—will constitute an interesting database for exploring promising care practices. Now we are in the final phase of data collection, and will soon start with the analysis of the data. Our international research teams will study this data from several perspectives, including patient centeredness (the Netherlands), use of e-health technology (Italy), and financing systems (Germany).
Our Finnish ICARE4EU research team at the University of Eastern Finland will focus on management and integration issues related to multimorbidity. In integrated care, one of the most important management challenges will be coordinating the collaboration between professionals in health and social care. Efficient teamwork within one's own work group is not enough; professionals must be ready to cross the boundaries between professions, units, organizations, disciplines, and sectors.
In the care of patients with multimorbidity, seamless cooperation between general practitioners, specialists, and nurses will be needed more than ever, and likewise between professionals in the health and social care sectors (e.g. between hospitals and home care). In addition, it is expected that new kinds of tasks and positions will be developed, which will lead to changes in the conventional roles of professionals.
From examining the ICARE4EU data, many promising practices have already been identified, which have overcome the obstacles to achieve a fruitful collaboration between care professionals. The country specific fact sheets for Finland, Germany, Italy, and the Netherlands have been published on our project's website, and describe the current state of some of the initiatives related to multimorbidity focused care in these countries. Promising practices for integrated care and collaboration between professionals in Finland, for example, include case managers, multi-professional care teams, interorganizational multi-professional development teams, and care pathways/care models that have been specifically developed to meet the needs of patients with multiple chronic conditions. All these aim, in their own ways, to cross conventional boundaries in existing care systems so that better patient care can be achieved.
While writing this blog I happen to be in the Netherlands, attending the 32nd Standing Conference of Organizational Symbolism (SCOS), which had the theme of "Sport, Play, and Game," and which was arranged by the School of Governance of Utrecht University. I was especially inspired by a presentation there from Professor Sandra Schruijer, and cannot resist comparing the collaboration related to multimorbidity to playing and games.
At its best, collaboration between different parties is "playing together" in a positive and creative manner, according to commonly agreed rules. The concepts of play and game, however, invariably include such dimensions as competition, winning, losing, and playing against somebody. When improving the care for patients with multimorbidity, it will be crucial to perceive boundary crossing as more important than boundary protection and defence—whether these boundaries exist between professions, units, organizations, disciplines, or care sectors.
One of the aims of the ICARE4EU project is to identify good practices that successfully cross these kinds of boundaries. Instead of a battlefield, the care related to multimorbidity will hopefully be constructed as a playground, where all care teams and other actors play together with other teams, involving the patients themselves as key players.
Our next step in the ICARE4EU project will be to identify good practices related to all the main perspectives of the project: patient centeredness, use of e-health technology, financing systems, and management and integration issues. Please visit our website and sign up for our newsletter. Any ideas you may have on issues relevant to improving care for people with multimorbidity are more than welcome.
Acknowledgements:
This blog arises from the project Innovating care for people with multiple chronic conditions in Europe (ICARE4EU), which has received funding from the European Union, in the framework of the Health Programme.
Involved partners:
• NIVEL (Netherlands institute for health services research), project coordinator
• TUB (Technische Universität Berlin)
• UEF (University of Eastern Finland)
• INRCA (Italian National Institute of Health and Science on Aging)
• University of Warwick
• AGE Platform Europe
• Eurocarers, European association working for carers
Supportive institution;
European Observatory on Health Systems and Policies (OBS)
Anneli Hujala is a senior researcher, Department of Health and Social Management, at the University of Eastern Finland.
Competing interests: I declare that I have read and understood the BMJ policy on declaration interests and I have no relevant interests to declare.
Read previous blogs about the ICARE4EU project:
Daphne Jansen: How can we improve care for people with multiple chronic conditions?
Ewout van Ginneken: ICARE4EU—important progress and challenges ahead