This year marks the 20th anniversary of the Rwandan genocide, in which between 500 000 and a million people were brutally killed. The international community failed to act and MSF concluded that "you can't stop genocide with doctors." The aftermath of the genocide included analysis of the failures of humanitarian aid, and led to moves to improve its quality and accountability. But how far has humanitarian aid moved since then?
In the past year, the bloody conflicts in the Central African Republic (CAR), South Sudan, and Syria have reached unspeakable levels of violence that have tested the limits of humanitarian assistance. Last month, three MSF colleagues were among 16 people killed during a meeting at the MSF hospital in Boguila, CAR. MSF activities have been scaled down in the area as a result. In 2013, unable to guarantee the safety of its staff, MSF took the difficult decision to leave Somalia after 22 years. And, last week, five MSF staff were finally released after being kidnapped in Syria in January; again resulting in MSF having to withdraw medical assistance from populations in dire need.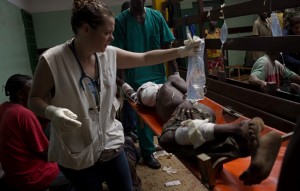 Since December 5 2013, a wave of violence has swept through Bangui, the capital of the Central African Republic. Médecins Sans Frontières (MSF) has treated wounded in the Community Hospital. Most have injuries caused by gunshots or weapons like machetes and knives. © Camille Lepage/Polaris
In the face of extreme violence and conflict, the importance of research and evidence in humanitarian responses can seem lessened. Yet without evidence, it can be highly uncertain whether aid is effective, or whether it could be considerably improved. At this year's MSF Scientific Day on May 23, the role of evidence in humanitarian decision making is the central question addressed by our keynote speaker, Jennifer Leaning of the FXB Harvard School of Health and Human Rights. On a similar theme, Paul Spiegel, of the United Nations High Commissioner for Refugees (UNHCR), will chair a panel discussion on how humanitarian agencies should balance research and action. This session will include the discussion of research on the provision of HIV care in conflict in CAR and Yemen, water quality in refugee camps in South Sudan, and an epidemic of sexual and gender based violence in Papua New Guinea.
Alongside conflict and disasters, the silent killers of malnutrition, lack of access to medicines, and neglected tropical diseases receive fewer headlines but also demand an urgent medical humanitarian response. Can you prevent malnutrition in children by giving nutritional supplements after episodes of illness? How do you ensure the best treatments for Buruli ulcer and visceral leishmaniasis reach patients? And how do you address widespread stock shortages of HIV and tuberculosis drugs on a national level? These are just a few of the topics that will be analysed and debated throughout the day. In addition there is a late breaker update on the 2014 Guinea Ebola outbreak, as well as analysis of the Ebola response in 2012 in the Democratic Republic of Congo. Other key issues addressed include the rise of artemisinin resistance in Cambodia, and in a new lunchtime talks session, the role of technology in humanitarian aid.
As in the past two years, we will be streaming the event live online for free from the Royal Society of Medicine, with a range of bandwidth options with the aim of allowing access even in areas with poor internet speeds. We hope that our online audience will again join in the debate and put questions to the researchers. Last year, over 2000 people tuned in on the day in over 90 countries, including many where MSF works. We are again very grateful to our ongoing sponsors PLOS and BioMed Central, and welcome our new sponsors The Lancet Global Health, the Royal Society of Tropical Medicine and Hygiene (RSTMH), and the London School of Hygiene and Tropical Medicine (LSHTM). This sponsorship helps cover the extra cost of putting the event online and allows us to greatly broaden the audience. We look forward to welcoming you all to participate in a day of debate and analysis on the challenges and dilemmas around evidence in humanitarian aid.
MSF Scientific Day 2014 will be streamed online live on May 23 from 09:00 to 17:15 BST. Register your interest here.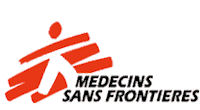 Sarah Venis is research coordinator at the Manson Unit, MSF, UK, and Philipp du Cros is head of the Manson Unit, MSF, UK.
Competing interests: The authors have no competing interests to declare.