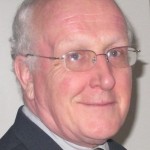 Many people across Europe regard the European Parliament as irrelevant, or worse. Personally I find this sad but they are entitled to their view. I wrote a blog here a few months ago to illustrate the important work done by many MEPs, taking the example of clinical trials. You can find it here.
I thought it might be interesting to "recycle" this before the elections for Parliament. It is partly about one MEP, but many others work just as hard and just as effectively.
Vote according to your own political preferences but do vote.
Jim Murray is a former director of BEUC—the European Consumers Organisation, having previously been the first director of Consumer Affairs and Fair Trade in Ireland. He writes here in a personal capacity. During his time with BEUC, he was a founder and one time president of the Transatlantic Consumer Dialogue. Currently he is a member of the European Commission's High Level Group on Administrative Burdens, and president of the European Foundation for Financial Inclusion.