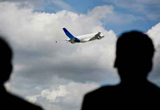 Last week we published a cluster of papers on airport noise and cardiovascular disease. One US based study found a statistically significant association between exposure to aircraft noise and risk of hospitalisation for cardiovascular diseases among older people living near airports, and another found that high levels of aircraft noise were associated with increased risks of stroke, coronary heart disease, and cardiovascular disease for both hospital admissions and mortality in areas near Heathrow airport in London.
The articles received widespread media coverage and generated considerable debate, both on bmj.com and elsewhere. Jagdeep Singh Gandhi, consultant ophthalmic surgeon at Worcestershire Royal Hospital reminded us that the "sage of the suburbs" JG Ballard lived his adult life in the shadow of Heathrow. He adds: "Besides sound-proofing, a concurrent task is to assess the sources of engine noise, and this facet is being increasingly studied by the sharpest minds in aerospace . . . Some motors are reputed to have an operation of such quietude that displacement of air is the main source of noise from the flying airframe."
All the major UK newspapers picked up on the story–online comments expressed the usual jaded lack of surprise at the results combined with healthy scrutiny of the research methods.
Simon Calder saw the research contributing to the debate on the expansion of our airports. The last paragraph of his blog on the Independent's website read, "But 48 hours ago a correlation between airport proximity and the risk of heart attacks or strokes was not in the public domain. Now that it is, the spectrum of harm from airports has extended from nuisance to a serious public health threat."
The research also attracted global media coverage. The Times of India, South China Morning Post, French Tribune, and Irish Independent (among others) reported the findings. Airports (or aviation hubs) are often a symptom of a nation's ambitions and it seems that emerging markets in India, central and south America, Brazil, and China will mean new or expanding airports. The Indian government recently announced plans to build 17 new airports during the next five years, while it is thought that China will build as many as 70 by 2015. These plans are dwarfed by Brazil's plans for 800 new regional airports—the president reportedly wanting all 194 million of the country's citizens to have access to air travel.
Our editorialist Stephen Stansfeld advised planners to take the research into account when expanding airports in heavily populated areas or planning new airports.
Here are some of the UK and global titles that picked up the papers:
Jett Aislabie is the digital production editor, BMJ.