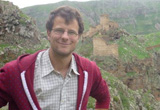 At the start of London's Paralympic Games, ITV's Don't Hate Us, broadcast on Thursday 23 August, is a stark reminder of the levels of hate crime against the disabled in this country. The programme explores a shocking statistic: of the 65,000 estimated hate crimes against the disabled last year, only 2,000 were reported and only 500 resulted in a conviction. 66% of those with disabilities questioned in a recent survey said that they had experienced aggression, hostility, and verbal abuse, and 47% said that attitudes had worsened in the last year. Presented by Francesca Martinez, an actress and comedienne with cerebral palsy, Don't Hate Us highlights a number of horrific cases of hate crime in recent years and discusses the root causes of this hatred.
Martinez meets Peter Greener, a man who worked for most of his life until four years ago, when he was diagnosed with multiple sclerosis. Unable to work, Greener was subjected to physical and verbal abuse from his next door neighbour. He had eggs and stones thrown at his windows and offensive messages scrawled on his property. Multiple sclerosis is a condition which varies in severity from day to day, and Greener's neighbour would label him a "scrounger" and a "faker" when he saw Greener sometimes in a wheelchair and sometimes coping just with crutches.
To explore the reasons behind hate crimes such as these, Martinez speaks to Kathernie Quarmby, a journalist who began investigating violent killings of disabled people in 2007. "I started to gather together cases that seemed to suggest that there was a depth of hatred towards disabled people in the UK," she said, "that had gone almost completely unrecognised by the police, prosecutors, and the media." Verbal and physical attacks on the disabled have doubled since 2008, and Quarmby believes that the media is partly to blame. The scrounger rhetoric has been given centre stage in the tabloids, with words such as "skiver", "cheat," and "scrounger" in relation to the disabled tripling in use in the last five years. This, she believes, has given rise to the view that disabled people are mere benefit cheats.
The programme cited a study published earlier this year which suggested that the public believes 50-70% of those claiming disability benefits are frauds, compared with official government figures which suggest that the rate is closer to 0.5%. Campaigners say that the vast majority of disabled people want to work, but in the current economic climate and with the reforms to the benefits system, this can be very challenging.
Finally, Don't Hate Us looks at an even darker side of the abuse inflicted on disabled people; that of mate crime. Mate crime is the abuse or exploitation of vulnerable people by those who have befriended them. The programme revisits the horrific death of 27 year-old Gemma Hayter, who had a rare congenital disorder which meant that she had a significant learning disability. Gemma was found dead on a railway embankment in Rugby in August 2010, after being forced to drink urine from a beer can, being beaten and left for dead by five people she considered her friends. While extreme cases of mate crime such as this are few and far between, it is indicative of a broader problem of discrimination and prejudice against the disabled in this country.
The hope is that the true legacy of the Paralympic Games will be a positive change in the way we view the disabled in our society. This change must come by looking at the issues that ordinary disabled people face every day.

Toby Pitts-Tucker is a BMJ Clegg scholar and a graduate medical student at the University of Southampton