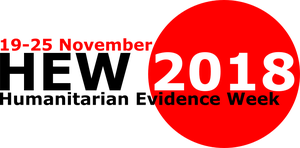 We bring our supported blog posts for HEW to a close today. As a reminder if you are just tuning in, HEW2018 is an initiative led by Evidence Aid, in collaboration with the Centre for Evidence-Based Medicine, University of Oxford, to promote a more evidence-based approach to disaster relief. Evidence Aid seeks to: highlight which interventions work, which don't work, which need more research, and which, no matter how well meaning, might be harmful. Medical Humanities, in its focus on global health, cultural engagement, and outreach, support these initiatives for building a more effective means of responding to humanitarian crises.
Do we all speak and practice "humanitarian" in the same way? –
By Clara Egger and Doris Schopper
First paragraph: Earlier this year, more than 1000 people from humanitarian organisations and networks responded to our online survey exploring how meanings and uses of concepts central to the humanitarian field are perceived by practitioners. 766 respondents answered all the questions, revealing reasonable consistency in the definition of concepts but a lot of variation in practices. [READ MORE]
Long term impacts of shelter programmes
Charles Parrack, Oxford Brookes University
First paragraph: Earlier this year, the Centre for Development and Emergency Practice (CENDEP) at Oxford Brookes University in the UK welcomed people from various backgrounds to a workshop on longitudinal studies in shelter. Longitudinal studies are by no means a new concept but the shelter sector rarely embeds them in practice, and we hoped to find out why not and whether this might change. That day in March provided an opportunity for people from the humanitarian sector, shelter and academia to advance discussions on a more organised approach to methodology, procurement, dissemination and sectoral learning/evidence from these studies. [READ MORE]
Blog: Supertowel, a new, soapless intervention for handwashing
Written by Torben Holm Larsen, Real Relief, and Sian White, London School of Hygiene and Tropical Medicine.
A young Eritrean girl hides behind her mother's skirt and watches intensely as we show her household how to use the SuperTowel. We give her one to try and as she starts to clean her hands and face with it, a smile full of wonder shoots across her face. [READ MORE]
Refugee mental health: exploring the impact of community-based psychosocial interventions
Ross White
First paragraph: The UNHCR (the United Nations Refugee Agency) has reported that 68.5 million people across the world were forced to move from their homes in 20171. Of all the continents, Africa hosts the largest number of refugees. Conflicts in countries such as South Sudan and Democratic Republic of Congo have led to substantial numbers of people seeking refuge in neighbouring countries. Uganda, for example, hosts over 1.4 million refugees2. Relative to other continents, Africa also has the highest proportion of 'low-income' countries3 (as classified by the World Bank). So countries that receive the largest number of refugees are often those that have the least resources to support their needs. [READ MORE]
(Visited 122 times, 1 visits today)