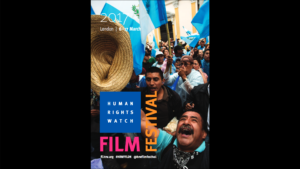 Film activism: London Human Rights Watch Film Festival- 6-17 March 2017,
Introduction by Khalid Ali, Screening room editor
Film events have recently become a platform for standing up against social injustice, and racism; the Oscar ceremony on Sunday 26th February was a powerful statement from film makers uniting against violation of human rights. On the same night, London's Trafalgar Square hosted a public screening of the Iranian film 'The salesman' demonstrating London's diversity and support for the film director Asghar Farhadi in boycotting the Oscar ceremony in response to Donald Trump's travel ban.
Between the 6th and 17th of March 2017, London once more shows its unwavering support of championing human rights by hosting the 21st edition of the London Human Rights Watch Film Festival. The films shown are particularly relevant for healthcare professionals as they shine a light on human stories from the front lines; narratives of doctors, nurses as well as patients deprived of their basic human rights in healthcare institutions and let down by oppressive regimes. Showing 16 documentary films, the festival engages its audience in debating a rich variety of topical global concerns. From the daily challenges of an Arab nurse in war-torn Iraq in 'Nowhere to hide', to the harrowing stories of young Moroccan and Yemeni girls forced into child marriage, and subsequent physical and mental traumas in 'Child mother', to the fight for humane care and justice by young Russian women sectioned in psychiatric units in 'We'll be alright' and a Chinese terminally ill patient with work-induced leukaemia in 'Complicit', the LHRWFF portrays universal stories of hope and defiance.
Here is an introduction form the festival team:
'In an era of global advances by far-right forces into the political mainstream, more than half the program explores individuals and groups exhibiting courageous resilience in challenging times, and celebrates the push for progress and transparency.
Revolutionary voices take centre stage in four titles, including our opening night film, the Oscar nominated 'I am not your Negro' by Raoul Peck- a stunning profile of US civil rights era writer James Baldwin, whose prophetic words, narrated by Samuel L. Jackson, bring us rapidly to the present. In 'Girl unbound', Maria Toorpakai becomes Pakistan's finest woman squash player, despite Taliban death threats. In 'Joshua', Joshua Wong, a teenager from Hong Kong, orchestrates fearless student-led stand-off with the Chines government in the fight for democracy. And the infectious uncompromising humour of Egyptian comedian Bassem Youssef is the powerful string that draws back the curtain on his government's crackdown on the rights of its citizens in 'Tickling giants'.
Three of our films highlight inspiring collective action- from '500 years', where the highly organised street protests of Mayan activists bring the truth to light in the courts of Guatemala; to 'The apology', where octogenarians, often referred to as 'comfort women', continue to demand accountability for the sexual exploitation by the Japanese army during World war II. Also screening is 'Complicit', which follows critically poisoned factory workers as they fight Chinese electronic giant Foxconn for acknowledgement, justice and health care.
Urgent and evolving issues of migration are explored in three titles that uncover the emerging reality of daily life as a refugee. In 'The good postman', the aging residents of a tiny Bulgarian town are split on whether to welcome or reject Syrian families fleeing war.
'Lost in Lebanon' takes a close look at the reaction of a country of 4 million inhabitants to the arrival of 1 million refugees. And in the highly emotive and deeply personal closing night film, 'Nowhere to hide', we accompany an Iraqi nurse and his family whose lives are suddenly turned upside down is their country is once again torn apart by war.
As always, the festival will host in-depth discussions after the screenings with film makers, protagonists, Human Rights Watch researchers and activists to offer you, the audience, a unique opportunity to ask questions and engage with topics covered in each film'.
The Human Rights Watch Film Festival Team
Vimeo trailer: https://vimeo.com/202960330
Recommended reading
https://blogs.bmj.com/medical-humanities/2016/03/07/khalid-ali-london-human-rights-film-festival-9-18-march-2016/
Address for correspondence
Khalid.ali@bsuh.nhs.uk
(Visited 197 times, 1 visits today)