You can find the full paper here
Tell us more about yourself and the author team
Carolina Lundqvist is an Associate Professor in Psychology, Associate Professor in Sports Sciences and Licensed Clinical Psychotherapist. She is the head of the Psychotherapist program at the Department of Behavioural Sciences and Learning, Linköping University and is a researcher at the Athletics Research Center, Linköping University. Her current research focuses, for example, on sustainable elite and safe sports careers. She has extensive experience working applied with sports psychology and clinically as a psychotherapist with elite athletes. She has participated in several European and World Championships as well as Olympic Games. For example, she was employed as a sports psychology consultant for almost ten years for the Swedish Olympic Committee and has had various assignments from the Swedish Sports Confederation as well as elite sports clubs and sports federations. She is an adjunct member of the Medical Commission at Swedish Athletics and conducts research in collaboration with sports federations and organizations nationally and internationally. When not working, Carolina enjoys cultural activities with her family and friends.
Anna Asratian is a PhD student in the field of epigenetic inheritance. She has a BSc and MSc in biomedicine and an additional BSc in psychology. Her current PhD work focuses on the changes in molecular profiles by external factors such as diet in fathers and how it affects the health of the offspring. Anna has been a gymnastics coach for approximately 15 years, mostly recreational gymnastics for teenagers, but she also coaches artistic gymnastics. She has also been involved in different leadership positions and board work within sports, mostly, but not exclusively. In her leisure time, she enjoys reading a good book and enjoys a good adventure.
Örjan Dahlström is an Associate Professor in Psychology and holds a PhD in Disability Research and an MSc in Electrical Engineering and Applied Physics. He is the head of the Psychology Division at the Department of Behavioural Sciences and Learning, Linköping University and a researcher at the Athletics Research Center, Linköping University. He has extensive experience in research using statistical models within sports injury research and an interest in interdisciplinary research methods. Beyond research, Örjan enjoys football and works as a goalkeeper coach.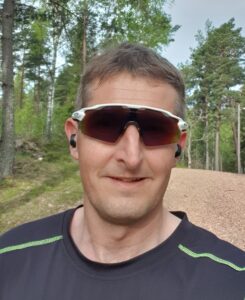 What is the story behind your study?
More and more Swedish sports clubs want to learn about how they can work with young athletes' mental health. The "Young People Should Feel Good: Mental Health through Sports" project was initiated after several conversations with sports coaches and leaders about mental health promotion. The results reported in this article are part of a larger data collection performed in collaboration with Swedish sports clubs.
In your own words, what did you find
In this study, over 200 gymnasts and basketball players between the ages of 10 and 22 years answered a questionnaire about lifestyle factors, mental health indicators and perceived coach autonomy support. We found strong associations between reported lifestyle factors (sleeping problems and daytime fatigue, demands or being under pressure) and well-being and poor general mental health. Older athletes reported higher scores on mental health concerns than younger. Interestingly, perceived coach autonomy support, usually suggested as an important precursor for athletes' motivation and well-being, did not affect the relationships between lifestyle factors and mental health indicators.
We also found some differences between the sports where basketball players in some age groups reported higher well-being and lower poor general mental health than gymnasts. These findings are in line with a growing number of studies indicating team sports participation is more beneficial for young athletes' mental health than individual sports. More research is however needed to understand the underlying mechanisms that might explain such findings.
What was the main challenge you faced in your study?
A general challenge when studying mental health in sports is that mental health is a complex and difficult-to-define construct and that athletes' mental health can be affected by several biopsychosocial factors both within and outside the sports setting.
If there is one take-home message from your study, what would that be?
We know that there are many challenges that young athletes, just like non-athletes, face in society today. Competitive sports can add additional stressors, for example, during the junior-to-senior transition phase. Therefore, Researchers and practitioners need to target athlete mental health holistically and consider the full spectrum of general lifestyle factors and sports-related precursors that can impact athlete mental health in various ages and developmental phases.
(Visited 73 times, 1 visits today)