The full article can be found here
Tell us more about yourself and the author team
This author team is multidisciplinary, representing several fields of interest in sports and exercise medicine.
Moa Jederström is an internship physician and PhD student at Athletics Research Center (https://liu.se/en/research/athletics-research-center) at Linköping University in Sweden. She is a former figure skater with a PhD project about the health among Swedish figure skaters (physical health, mental health and safeguarding). Clinically, she is interested in Child and Adolescent Psychiatry and is part of a research project about treating anorexia nervosa coordinated through the European Society for Child and Adolescent Psychiatry (ESCAP). This article is the second contribution to her upcoming dissertation.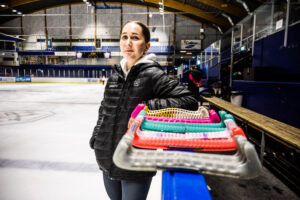 Sara Agnafors is a Child and Adolescent Psychiatry resident holding a postdoc position in children's and women's health. She is currently part of the International Committee of the Swedish Figure Skating Association.
Christina Ekegren is a Senior Research Fellow in the Rehabilitation, Ageing and Independent Living (RAIL) Research Centre at Monash University, Australia. She has an interest in long-term injury outcomes, including recovery of physical activity levels post-injury.
Kristina Fagher is a Sports Physiotherapist and postdoctoral researcher in the Rehabilitation Medicine Research Group at Lund University, Sweden. Her research focuses on athlete health, injury prevention and health promotion.
Håkan Gauffin is a consultant in orthopaedic surgery focusing on trauma, knee surgery and sports medicine. His main research interest has been knee injuries, athletics and football, but he has gradually broadened to psychological and contextual factors and interest in several different sports.
Laura Korhonen is a Child and Adolescent Psychiatry professor and senior consultant physician at Linköping university and Region Östergötland, Sweden. She is also the Director of Barnafrid, the National Competence Center on Violence Against Children.
Jennifer Park, MD and PhD with a primary research interest in colorectal cancer surgery and patient-reported outcome measures. She has previous clinical experience working with competitive figure skaters.
Armin Spreco is a PhD in medical science with a master's degree in statistics, working with research projects in public health, sports injuries and healthcare services.
Toomas Timpka is a Professor of Social Medicine and an Associate Professor of Medical Informatics at Linköping University, Sweden. He also holds an appointment as a senior consultant physician at Region Östergötland. Toomas is the Director of the Athletics Research Center, an international scientific partnership involving researchers from three continents. He has been the Principal Investigator in several research programs at World Athletics Championships and is the Head of the Medical Commission at Swedish Athletics.
What is the story behind your study?
Very little research is available about the health of figure skaters, and the few available studies have mainly included junior and senior skaters competing at the elite level.
Most participants in figure skating will never reach the elite level, and more knowledge about their health is needed. Also, for skaters aiming to become elite athletes, we need to know about the potential health issues they may encounter during their career as figure skaters – and how to prevent them to promote health among youth athletes.
Therefore, this study aimed to investigate the mental health of female figure skaters competing at the community level.
In your own words, what did you find?
Almost half of participating figure skaters in this population were found to present with anxiety caseness (measured using the short-STAI instrument), and a tenth reported depression caseness (measured using the WHO-5 well-being index. In addition, older age was associated with reporting worse mental health, and in multiple models, both older age and expressing an overweight body image perception were associated with anxiety caseness.
Notably, compared with the general population of young Swedish females, participants of this study:
reported a better mental health status
engaged in weight reduction behaviours to a lesser extent
reported less body dissatisfaction
had more regular meal routines
What was the main challenge you faced in your study?
Since we included all skaters in the south-eastern region of Sweden (of all ages and levels), it was challenging to find instruments for assessing anxiety and depression caseness that were validated for all age groups in the population and simultaneously of reasonable length for an online questionnaire.
If there is one take-home message from your study, what would that be?
Young figure skaters may simultaneously show an overall high well-being and symptoms of mental illness, such as anxiety. However, more research is needed on the health of figure skaters.
Figure skating practitioners should therefore be attentive to symptoms of anxiety and depression among young figure skaters and acknowledge the possible association between body image perception and mental health issues. There is a need for early recognition of anxiety symptoms and early interventions to neutralise negative body image perception. Further prospective studies are warranted. Also, ways to promote mental health and identify those needing further assessment and help should be improved.
(Visited 81 times, 2 visits today)