Huebner M, Ma W. Health challenges and acute sports injuries restrict weightlifting training of older athletes. BMJ Open Sport & Exercise Medicine 2022;8:e001372. doi: 10.1136/bmjsem-2022-001372.
The full paper can be found here 
Tell us more about yourself and the author team.
Dr. Marianne Huebner is a Professor of Statistics and Probability and an Adjunct Professor of Kinesiology at Michigan State University. She has competed in weightlifting as a Master's athlete since 2016 and won two World Masters Championships. Hence, she belongs to the community studied in this article.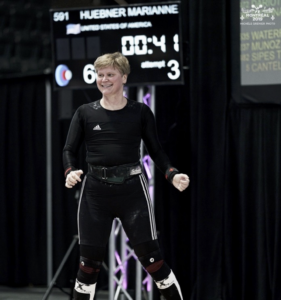 Dr. Wenjuan Ma is a statistician at the Center for Statistical Training and Consulting at MSU. Her background is in Communication Arts and Sciences and data-intensive methods.
What is the story behind your study?
 Master athletes have a long-term engagement in a specific sport and thus overuse injuries can occur, and the risk may increase with age. The athletes find great enjoyment in the sport and thus even minor injuries leading to restrictions or disruptions of training can have negative psychological effects. Weightlifting injury rates are lower than those in some other sports, such as ball sports, but older athletes experience more health challenges and need to be thoughtful about their training. Describing frequencies of injuries at typical locations and bringing greater awareness of what factors may be associated with such injuries could help athletes and coaches to think about preventative measures.
In your own words, what did you find?
We found that self-reported osteoarthritis or 'wear and tear' were very common. This could have an impact on how to devise training programs. We were able to rank several training factors, such as length of specific elements of training sessions (cool-down, supplemental exercises), training frequency, or concurrent training that could be modifiable factors for weightlifting injuries in older athletes.
Computationally intensive models such as machine learning approaches might be useful in identifying factors among sports history, training habits, and health-related variables that may be associated with injuries in older athletes during their weightlifting career. However, machine learning models do not necessarily perform better than classic statistical models in our study setting.
What was the main challenge you faced in your study?
The data used in the analyses were self-reported survey data. The survey was conducted in June 2021 when many weightlifters faced training restrictions or lockdowns during the COVID pandemic. Thus, questions about injuries were phrased as having "ever" occurred instead of being restricted to a specific time period prior to the survey.
If there is one take-home message from your study, what would that be?
Master athletes and their coaches should carefully review their training programs to make sure exercise choices, volume, and frequency are appropriate given their capacity, health conditions, or sports history to remain injury free and thus are able to continue training without restrictions or interruptions.
(Visited 188 times, 1 visits today)