BMJ Open Sport & Exercise Medicine Associate Editor, Dr Norasak Suvachittanont, was invited to share his perspectives on Sport & Exercise Medicine (SEM) in his home country, Thailand.
Tell us more about yourself
I am a Sports Cardiologist working full-time at the Samitivej Sukumvit Hospital in Bangkok, Thailand. I am also an invited lecturer at the College of Sport Science and Technology, Mahidol University, Thailand. Although I have not had any chance to work with sports team athletes yet, I do look after some elite Taekwondo, badminton and golf athletes in Thailand.
My career path in sports cardiology started when a famous Thai singer wanted to do a fundraising run. As this consisted of a 40km run per day for ten consecutive days, the organisers needed a medical team who could run a marathon and perform Advanced Cardiac Life Support. That event was successful and >€3 million were raised for a rural hospital. A year later, the same singer wanted to do another long-distance run from the southernmost to the northernmost point of Thailand, (2215 km run over 55 days). On this occasion, >€30 million were raised and given to 11 hospitals nationwide. Through these events, I discovered that Thailand had no cardiologists who specialised in SEM; thus, there was limited care available for athletes from the amateur to the elite level, which motivated me to pursue a career in sports cardiology. This pursuit eventually led me to BOSEM, where I now serve as an Associate Editor.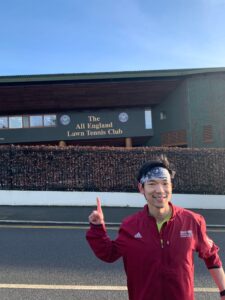 What is the path to becoming a sports cardiologist in Thailand, and what are the main hurdles on this path?
We currently have no such programme in Thailand. After six years of medical school and three foundation years (i.e. internship/residency), I completed a 3-year internal medicine residency training and a 2-year cardiovascular medicine fellowship training. Due to the lack of a formalised sports cardiology programme, it was necessary to my development to gain knowledge abroad. The fastest way to obtain such a  qualification was to complete a Master of Sports Cardiology at St. George's Hospital (University of London), where Professor Sanjay Sharma, a world-renowned sports cardiologist, worked. Hence, by completing this degree, I became a sports cardiologist.
The main hurdles, for me, were language and financial issues. Coming from a non-English speaking country is challenging, especially when it comes to academic writing, which is different from general English. Moreover, the fee for non-EU students was 1.5 times higher.
How developed is collaborative work in SEM in Thailand?
In sports which are famous among Thais (i.e. those most likely to lead to medals at the international level: e.g. taekwondo, badminton and female volleyball), coaches are responsible for seeking the best multidisciplinary care for their athletes. Therefore, it is important that coaches receive scientific-based training in order to communicate with key stakeholders. Exercise physiology, nutrition, and strength and conditioning services, yet not sports biomechanics and psychology, are usually included in athlete training programmes.
At the national level, the "Thai Orthopaedic Society for Sports Medicine" attempts to invite more diverse healthcare professionals to reinforce multidisciplinary work, yet I  collaborative work in SEM appears to be in its infancy in Thailand.
Are exercise physiologists/scientists integrated into your healthcare system, and does health insurance cover their services?
These services are integrated into the healthcare system and reimbursable. However, due to the staff shortages, almost all exercise physiologists/scientists are located in medical school hospitals and the occasional high-end private hospital. Few practise in sports clinics under The Sports Authority of Thailand. The centralisation of the medical services makes it difficult for athletes nationwide to get the same level of treatment, which results in many traveling to Bangkok to receive the highest quality of care. For athletes on a national level, medical bills from public hospitals are covered by the government, while services delivered by private hospitals are not reimbursed.
What is done in Thailand to promote SEM among students and young professionals regarding research and clinical opportunities?
At the moment, SEM is not taught at the undergraduate level at medical school. However, there has been burgeoning interest from doctors over the past few years. We now have a PhD programme dedicated to SEM. However, there is no such programme for sports cardiology currently.
For sports cardiology, there is now an increasing interest among fellows-in-training even though they still need to travel abroad to obtain a degree. I strongly hope that there will be more collaboration between Thailand and St George's University in London in the future.
Finally, if you were Harry Potter, what would you change to SEM in Thailand?
If I was Harry Potter, I would like to broaden the SEM scope beyond a small group of orthopaedic surgeons by incorporating SEM into undergraduate curricula. This would overcome the misconception that SEM only involves acute athlete injuries, rather than the broader topics of chronic disease and prevention-based medicine. This would eventually lead to performance enhancement for athletes and increased physical activity rate in the general population.
(Visited 205 times, 1 visits today)