In his quality of Extraordinary Professor of Sports and Exercise Medicine (SEM) at the Center for Human Movement Sciences of the University Medical Center Groningen, we invited Prof Hans Zwerver to present his perspective on SEM in his home country, The Netherlands.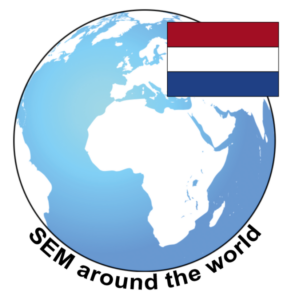 Tell us more about yourself
I am a registered Sports and Exercise Physician doing my clinical work at the department of (elite) Sports Medicine at SportsValley, the multidisciplinary High Performance Medical Center of Gelderse Vallei Hospital in Ede. Our team provides medical care to both non-elite athletes and patients but also to many Olympic athletes (e.g. athletics, judo, volleyball) and is part of TeamNL.
Next to this I am an Extraordinary Professor of Sports and Exercise Medicine (SEM) at the Center for Human Movement Sciences of the University Medical Center Groningen. My research activities focus on prevention and management of injuries (especially tendinopathy) and on 'Exercise is Medicine' (EIM). I give lectures about sports injuries, tendinopathy and EIM to students and practitioners from several disciplines at the University of Groningen, at Wageningen University Research and a few other educational organisations.
In my youth, I used to play basketball at (inter)national level and at that time developed a keen interest in sports related physiology and injuries. Nowadays, I am still fascinated by the benefits of exercise for health, but also by finding the best strategies how to optimally prevent and manage sports- and exercise related injuries.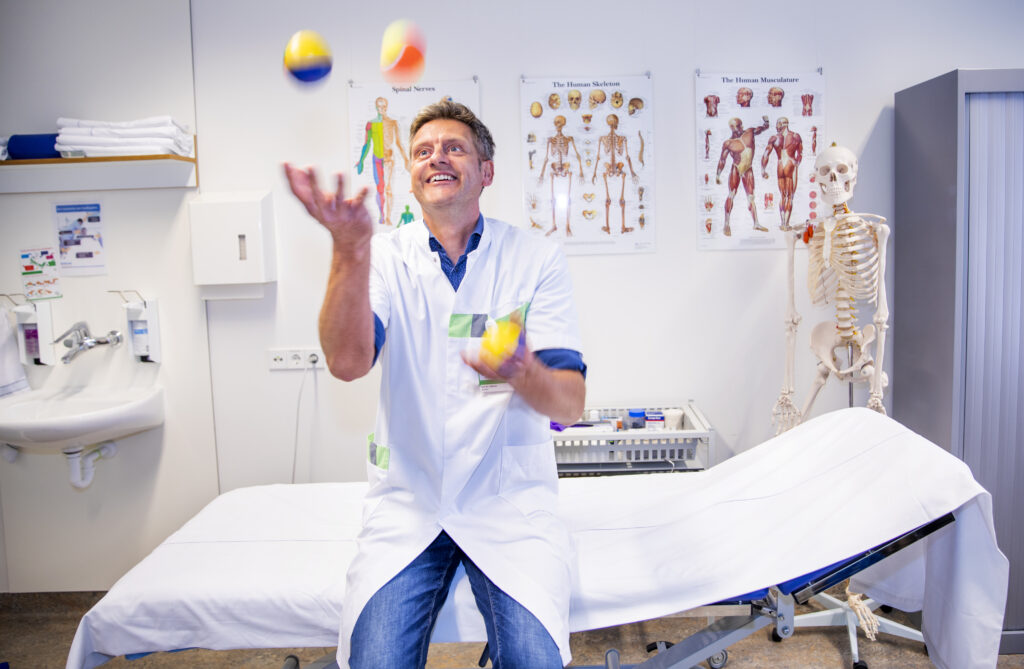 What is the path to become a sport and exercise physician in The Netherlands, and what are the main hurdles on this path?
SEM in the Netherlands has its roots in Social Medicine, especially since in the Sixties and Seventies preventive pre-participation physical examinations were obligatory in sports. Sports physicians have been trained in The Netherlands since 1976, but it took until 1986 before Sports Medicine was recognized as an official branch of Social Medicine by the Dutch College of Social Medicine (CSG).
In 2014 SEM has been recognized by the Ministry of Health, Welfare and Sport as a Medical Specialty. Since then, the Sports Physician is considered the Medical Specialist for Sport and Exercise Medicine and only registered Sports Physicians are allowed to call themselves Sports Physicians.
SEM specialist training consists of compulsory residencies / teaching on the job in relevant disciplines (Clinical Sports and Exercise Medicine, Exercise Physiology, Cardiology, Pulmonary Medicine, Orthopaedics, Emergency Room and General Practitioner) in combination with national and local (cross-discipline) education including courses on various topics both within and outside Sports Medicine. The nominal duration of the training is four years, but it is possible to personalize the duration of the training for the individual resident.
An independent organization, The Netherlands Institute for the Training of Specialist in Sports Medicine (SBOS), is responsible for the education and training of the Sports Physicians. SEM residents are trained at accredited teaching hospitals and there is a national SEM specialist training plan which describes the Entrusted Professional Activities (EPAs) (see table 1). In the EPAs, the competencies are operationalized in an observable way. EPAs fit in well with the daily work of the SEM resident in practice. By issuing phased declarations of competence, residents in SEM are gradually growing towards professional independence and responsibility. The training plan also pays explicit attention to several current social and organizational topics (CanMEDS, personal leadership) to properly prepare the SEM resident for the various roles that the Sports Physicians fulfill in addition to their clinical activities. In addition to the normal training program, in-depth specialist training can be included in the final year of the training.
SEM is a very popular medical specialty for young doctors. However, only 7 sports medicine residents can start their training program each year. So, the main hurdle is to get in……….
Table 1 Entrusted Professional Activities
| | |
| --- | --- |
| | EPA |
| 1 | Sports Medicine Consultation (simple problem) |
| 2 | Sports Medicine Consultation (complex problem) |
| 3 | Pre-participation Physical Examination (PPE) |
| 4 | PPE + Cardiopulmonary Exercise Testing in athlete |
| 5 | PPE + Cardiopulmonary Exercise Testing in patient with chronic disease |
| 6 | Role Team Physician in (elite) sports |
| 7 | Orthopaedic consultation |
| 8 | Conservative management of musculoskeletal problem |
| 9 | General Practitioner consultation |
How developed is collaborative work in SEM in The Netherlands?
Over the past 15 years an increasing number of Sports Physicians is now working in SEM departments in (University) hospitals. Besides their own tasks, Sports Physicians have a complementary and synergistic role in relation to other medical specialists such as orthopaedic surgeons, cardiologists, pulmonologists, physicians for rehabilitation medicine, surgeons, and internal medicine doctors. Cardiopulmonary exercise testing (CPET) and prescribing exercise training to patients with chronic disease, cancer, cardiac or pulmonary disease and before/after surgical interventions gets more attention and Sports Physicians increasingly play a central role in this important multidisciplinary approach.
Next to this, both in hospitals and private sports medicine centers close collaboration exists with orthopaedic surgeons and local and regional (sports) physiotherapists, when it comes to diagnosis, treatment, and rehabilitation of musculoskeletal problems.
The Netherlands Association of Sports Medicine (VSG) is also in the lead for developing multidisciplinary guidelines for the management of common sports injuries, like Achilles tendinopathy (de Vos et al). Next to this the medical ethical committee of the VSG has also developed Guidelines for Good Sports Medicine practice, including chapters on e.g. doping, martial arts and youth, which are an addendum to the code of conduct of the Royal Dutch medical Association (KNMG). These Guidelines apply to all physicians which are involved in sports.
Of course, Sports Physicians also work together with coaches, athletes and embedded scientists in the world of sports; e.g. for the Dutch Olympic Committee, major sport associations and professional teams. The Dutch Olympic Committee has organized its medical care for the Olympians and talents in five regional medical centers (including SportsValley), in which Sport Physicians and different specialists cooperate to provide easily accessible and optimal care for these elite athletes.
Only a few Sports Physicians, mainly in Academic Institutions or the bigger teaching hospitals do scientific research. However, there often is good collaboration with human movement scientists and the research departments of orthopaedics, surgery, physiotherapy, cardiology and oncology. SEM in The Netherlands has its own research agenda, in which the ten main priorities for research are described every five years. Other medical specialties and disciplines including the end-users / sport associations are invited to give input for this agenda and participate in the projects.
The Dutch Sports Medicine Association has also taken the initiative to launch a National Center Exercise is Medicine, which aims to implement 'Exercise is Medicine' in the Dutch Hospitals/Healthcare and bridge the gap between medical practitioners and exercise professionals, when it comes to prescribing exercise for health. Stakeholders from healthcare, fitness and sports, knowledge institutes and government participate in this project.
Are exercise physiologists/scientists integrated into your healthcare system, and does health insurance cover for their services?
To my knowledge not many exercise physiologists / scientists are really integrated in the patient care of the Dutch Healthcare system yet, however I believe their number is increasing. In some Sports Medicine departments and Centers for Rehabilitation they perform the CPET or other performance tests both in patients and athletes. They do play an increasing role in exercise related research at several departments though.
In general Health Insurance does not cover the services of exercise physiologists, nor does it always cover the costs for exercise testing and exercise prescription by Sports Physicians (yet).
What is done in The Netherlands to promote SEM among students and young professionals regarding research and clinical opportunities?
There are popular multidisciplinary bachelor and master Human Movement and Sport & Exercise Science programs in several universities in The Netherlands, in which students can start their research career in SEM.
Unfortunately, in the regular education programs at Medical Universities only a few lectures are scheduled dealing with SEM and its clinical relevance for health(care). However, as SEM community in The Netherlands we are working on this, and we have good hope that it will change in the nearby future. It is good to mention that pro-active medical students and young professionals have now organized their own Lifestyle Medicine Curriculum, which also includes lectures on 'Exercise is Medicine'.
Finally, if you were Harry Potter, what would you change to SEM in The Netherlands?
The Dutch government has recognized the importance of lifestyle factors including physical activity in the prevention and management of chronic disease. This is one of the reasons why SEM has been recognized in 2014. This recognition has been a major step forward however the role of SEM in Dutch healthcare can be much more important.
By helping athletes and patients to be physically active in a safe and healthy way, by performing societal relevant research, and by showing off what we can, we have to create a strong position for SEM, amongst other medical specialties in healthcare. In the Netherlands, at the moment many people, including athletes, patients and colleague medical practitioners do not exactly know what the role of SEM in Dutch healthcare is/can be and what the knowledge, skills and tasks of a Sports Physician are. Misbeliefs like 'only for elite athletes', 'prescribing banned drugs/doping' and 'running into the pitch with a miracle sponge' are persistent, and far from what we do in daily practice. This misconception has to be changed and the Sports Physician has to be really recognized as the medical specialist in sports and exercise. Next to this, even more and better multidisciplinary collaboration between clinicians and scientists is necessary for optimal and evidence-based prevention, treatment and rehabilitation of injuries in (elite) athletes.
A major change we are now working on is establishing a Dutch National Center Exercise is Medicine, which aims to integrate Exercise in healthcare and to create a network which facilitates and helps people at risk for or with (chronic) disease in being physical active. Ideally, in every consultation physical activity should be evaluated and discussed, and every patient should go home with a (personalized) exercise prescription, and if necessary, a referral to the appropriate sports and exercise professional. In order to achieve this, teaching of medical professionals about Exercise is Medicine is important and a better connection between medical care and the fitness industry necessary. Furthermore, Health Insurance companies need to change their focus from financing 'treatment' to financing 'prevention'. In The Netherlands we strongly believe this should be possible in every hospital and not only in St Mungo's Hospital for Magical Maladies and Injuries.
Finally, with some Wizardry and based on miraculous research performed at Hogwarts school, we want to drastically change the injury rate in sports, especially by developing and implementing Brooms up! an (inter)national magic injury prevention program for Quidditch!
Ergo Dutch SEM, expelliarmus sports injuries and chronic disease!
Reference
de Vos RJ, van der Vlist AC, Zwerver J, et al. Dutch multidisciplinary guideline on Achilles tendinopathy. Br J Sports Med. 2021 Oct;55(20):1125-1134. doi: 10.1136/bjsports-2020-103867. Epub 2021 Jun 29.PMID: 34187784
(Visited 278 times, 1 visits today)