My current institution is the Centre for Stress and Age-related Disease, University of Brighton, England but my original academic roots were born out of the University of Aberdeen, Scotland, where I studied Exercise and Health science and fell in love with the nature of research. This is where I generated one of the first data sets for a trans women football player during my thesis. This is on the back of me being an athlete myself, playing as a goalkeeper for Hastings United Football Club, Hastings, England.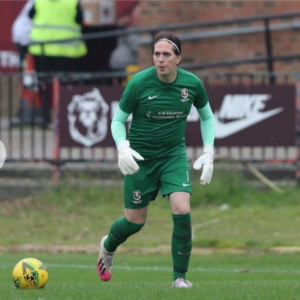 What is your main area of research / clinical expertise?
My primary area of research is transgender athletes, and how their gender affirmation hormone treatment effects their sporting performance and health; but I also have secondary interests, mainly the effects of exercise interventions on the prevalence of bone diseases and how exercise can be used as a tool to prevent the incidence of these diseases.
What is your motivation to be a member of the BOSEM team?
My motivation is simple, open, honest, diverse science with fresh generation of ideas in sports and exercise medicine. We at the Centre for Stress and Age-related Disease strive to be transparent in everything we do for example, publishing protocols as preprints, publishing all data etc., and I would like to think I can bring this transparent ethos to BOSEM, as well as the addition of my experience of diversity in the sports field and my relatively fresh ideas in the area of sports medicine.
What is a work-related accomplishment that you're really proud of?
There has been a couple that really stand out over the difficult past 18 months, but one would be the creation and publication of the FIMS 2020 consensus statement on the Integration of Trans women and cisgender females with Differences of Sex Development (DSD) into elite female sport. It was incredible to write that paper and have 69 of the worlds leading sports and exercise medicines researchers and clinicians want to put their support to my work. Secondly, due to sadly not being in the lab due to covid restrictions, we undertook a meta-analysis in the effects of ground force exercise on Bone mineral density in Men and we published a really strong and thorough meta-analysis. I suppose I should mention the appointment to the editorial board of BOSEM too!
Who has influenced you most when it comes to how you approach your work?
I am a very big fan of inspirational quotes and the poem "Invictus" by William Ernest Henley is the words I live by every day. In terms of an academic influencer, I would have to say Professor Derek Scott from the School of Medicine, Medical Sciences & Nutrition, University of Aberdeen. The man knows his topic of physiology so deep in detail that his lectures were captivating and entertaining to listen to and this gave me the drive to teach academically and pursue a career in research.  I hope my lectures and work can one day be as captivating as Prof Scott's.
What's your favorite way to unwind after a busy day?
Sport, sport, and more sport! If I am not playing sport, I am watching sport. However, I will allow myself to indulge in a "sherbet" or two on the weekend or after a game to unwind.
(Visited 519 times, 1 visits today)