I am Ana, and dance led me to Physiotherapy. I am a Physiotherapist with extensive clinical experience in musculoskeletal, sports and dance fields, and currently working in a private clinic in Portugal; also. I hold a Postgraduate Degree in Sports Physiotherapy. My curiosity and experience boosted me to dive into the research world, which encouraged me to obtain my 1st PhD; the research topic was on professional dancers' single-leg landing biomechanics. However, I still have a lot to learn and accomplish. Therefore, I am excited and grateful to embark on a brand new chapter, Down Under; soon, I will commence my 2nd PhD with an incredible team focused on the foot research project. Bring on the next years.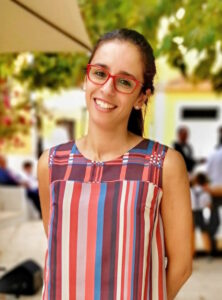 What is your main area of research / clinical expertise?
My clinical work is in the musculoskeletal, sports and dance fields. In the research area, my main interest is the lower extremity, particularly the foot-ankle complex, which in my opinion, is a functional masterpiece of the human body often underestimated. Stay tuned!
What is your motivation to be a member of the BOSEM team?
As a member of the BOSEM team, I can better understand the backstage of research and scientific journals. Besides, I have the opportunity to further exchange and discuss ideas with people that have distinctive professional experiences, diverse backgrounds, and from different cultures, but with the same goal: to contribute and disseminate sports and exercise medicine to all. It is interdisciplinary teamwork, which makes it challenging and exciting.
What is a work-related accomplishment that you're really proud of?
In the clinical field: when I can truly engage, empower and motivate patients in their rehabilitation/prevention process to successfully overcome an injury and/or disability –  it may sound a cliché, but it makes me feel fulfilled.
In the research field: the Fulbright research scholarship provided me with the opportunity to spend a period of time in the US, where I was pushed outside of my comfort zone, where I expanded my skills, and where I acquired a sharper vision of research, thanks to my mentor there, Dr Cortes.
Recently, the Brownyn Schlotterlein research scholarship will be a challenging and extremely fulfilling experience, working with extraordinary clinician-researchers. Hopefully will have much more to come!
Who has influenced you most when it comes to how you approach your work?
Physiotherapist Raul Oliveira, who was my mentor in the early stages of my professional career as a Physiotherapist, kindly shared his endless knowledge, with whom I have learned extensively, and who believed in me and my skills. Glad I have crossed his path.
Also, Physiotherapist Sue Mayes, whose work I have been following for years. She has been raising the bar in the dancers' health field; she has been doing amazing dance science with an impactful and engaging service to Physiotherapy and Dance. Soon I will be working closely with Sue – I am so lucky and so proud too!
What's your favourite way to unwind after a busy day?
Dancing is always a great way! I also enjoy going to the beach, reading a book or watching a documentary.
(Visited 319 times, 1 visits today)