Can the arts help alleviate some of the suffering caused by the pandemic? Can theatre help us to find meaning, to begin to heal? Richard Hurley was moved by this performance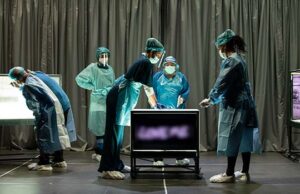 "There's a lot of misrepresentation of nurses and doctors," Christie Watson tells The BMJ. This theatrical show, inspired by her memoirs of 20 years as a nurse, is a "very non-stereotypical" celebration of what it means to care professionally—and what it means to be human. 
The Language of Kindness is an appreciation of all that NHS staff have given in the past 15 months, Watson, now professor of medical and health humanities at the University of East Anglia, Norwich, explains.
"The idea that we might not be with our loved ones if they're alone in hospital, even at the end of their life, is just horrendous," she says. "But nobody was left alone ever, because nurses will always be there, and that is such a powerful privilege."
The show incorporates physical theatre, visual projections, and rousing music. You can't help smiling when actors in gowns and headpieces made from protective gloves dance to Harry Belafonte's Jump in the Line. You can't help being moved when photos of smiling NHS staff cover every surface on the stage.
Hospital corners, neonatal death, picnics in the small hours, the horrors of all that comes out of the human body, and maintaining professionalism despite physical and mental exhaustion: there's humour, trauma, camaraderie, grief, and love by the bucketful.
The pandemic has changed how the public views nursing, says Watson, particularly in critical care: "Suddenly people realised that this job is complicated, you can't learn it overnight."
That there's no nurse on SAGE, the official pandemic advisory committee, speaks volumes about how the government sees nurses, she says. "I was told that's because it's a committee of scientists and experts. But nurses are scientists and experts. Had there been a care home nurse on SAGE many lives could have been saved. Infection control nurses' entire career is about PPE. It's shocking that they are not being consulted.
"Nurses have long been stigmatised as handmaidens or angels. Wartime language, like the term 'hero,' can be seen as politically convenient, legitimising low pay and inadequate PPE." The show juxtaposes "clap for carers" with "cannon fodder."
This feeds into nursing's extreme gender problem, says Watson: almost 90% are women yet there's still a pay gap in favour of men. "The only way to get men into nursing is to value the women in nursing: pay them appropriately, and see and portray them as the rigorously trained, safety critical professionals that they are."
Physical distancing, facemasks, and face shields are integral to the show. PPE's impact, on touch and communication, plays out on the stage as well as in hospital, says Watson. "In PPE people can't recognise you. Patients can't hear staff properly, can't see facial expressions. There's something potentially dehumanising about this barrier between professional and patient."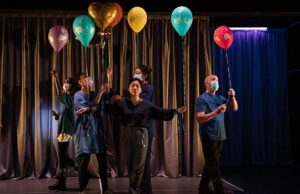 Watson worked briefly at London's Nightingale Hospital during the first wave of covid-19. "I was really afraid. Healthcare professionals were traumatised. We're now beginning to reflect on meaning, trying to make sense of it all." Everyone's priority now, she says, must be  doctors' and nurses' mental health.
She worries that emergency, diluted staffing levels should not be seen as acceptable or safe now. Even before the pandemic, nursing, like medicine, had major challenges in recruitment and retention. "If experienced people leave the profession, new nurses won't have role models to learn from," she says.
Watson has four written books, including two novels. "Nursing and medicine are increasingly about storytelling," she says. "The arts play a great role in understanding people's stories, and in representing, and alleviating, people's suffering. 
"When I started out, I knew nursing was about anatomy, physiology, chemistry, and maths. But it's also about art, literature, dance, and politics–and nursing is theatre too."
Bringing actors and audiences back together during the pandemic comes with huge logistical and financial burdens, including daily tests for cast and crew. There are no doubt emotional challenges too: "Every single person you meet," says Watson, "has been going through their own personal family traumas, as well as at work, in the past year."
The Language of Kindness is at Shoreditch Town Hall, London, until 12 June, with discounts for NHS staff. The performance on Thursday 10 June will be live streamed online: www.waywardproductions.co.uk/the-language-of-kindness
Richard Hurley, features and debates editor, The BMJ.
Competing interests: none declared. 
Photo: Ali Wright