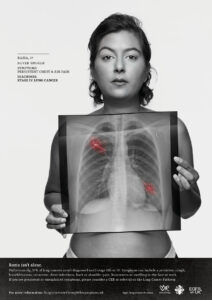 Razia was thirty-five years old when she was diagnosed with stage IV lung cancer. She is the mother of three young daughters and was healthy and active. She had never smoked. She was eventually diagnosed nearly a year after she first presented with symptoms.
Faye was twenty-eight when she was diagnosed with stage IV lung cancer. A student midwife working in the NHS, she was diagnosed after an emergency admission to A&E four months after first presenting with symptoms. She had never smoked.
Faye and Razia are featured in a lung cancer early diagnosis campaign developed by the Ruth Strauss Foundation, ALK Positive UK, and EGFR Positive UK. ALK Positive UK and EGFR Positive UK are patient-led charities which support patients and families affected by lung cancer with an EGFR or ALK mutation. The average age of our members is fifty, and the majority are never-smokers. The Ruth Strauss Foundation was set up following the death of Andrew Strauss's wife Ruth, at the age of forty-six from never-smoking lung cancer. The Foundation funds research into never-smoking lung cancer and offers bereavement support for families facing the death of a parent. 
In the UK, it is estimated that nearly 6000 never-smokers die of lung cancer every year—greater than the numbers of people who die of cervical cancer (900), lymphoma (5200), leukaemia (4500) and ovarian cancer (4200). While smoking clearly remains the largest modifiable risk for lung cancer, accounting for 86% of lung cancer, lung cancer in never-smokers is now the eighth largest cause of cancer-related death in the UK if considered as a separate disease.
The recent UKLCC report, "COVID-19 Matters" highlights growing concerns in the lung cancer community that the pandemic will lead to increased cases of late diagnoses in lung cancer, potentially reversing the progress that has been made in the last five to ten years. The overlap of lung cancer symptoms with covid-19 has led to conflicting advice for patients. Early diagnosis is key to improving the prognosis for all lung cancer patients in the UK. The latest findings from the National Lung Cancer Audit report identified that 57% of all lung cancers are diagnosed at stage IIIb or IV and only 37% of lung cancer patients will survive for one-year, which is unchanged from the previous year. The most recent five-year net survival figures from the Office for National Statistics for men and women in England diagnosed in 2012 (followed up to 2018) were 14% and 19% respectively. A recent joint membership survey conducted by EGFR Positive UK and ALK Positive UK, revealed that 86.4% of our respondents were diagnosed at stage IV, with nearly 40% percent accessing specialist care via A&E. 60.5% of respondents were never—smokers highlighting the need for this campaign.
The "See Through the Symptoms" campaign will target GPs and primary healthcare professionals and feature patients from our communities. It is consistent with NICE guidelines on diagnosis, has been developed in collaboration with experts in field and has the endorsement of the British Thoracic Oncology Group and the British Lung Foundation. Shot by the celebrated British photographer, Rankin, it tells the diagnosis stories of a selection of patients: eight never-smokers, and one social smoker. They range in age from 28 to 64—all of them diagnosed with stage IV lung cancer. 
For patients, diagnosis at late stages of the disease means fewer treatment options and less time with their families. As patients, we are keen to join with our partners in the lung cancer community to do all we can to raise awareness of lung cancer and promote the message that anyone with lungs can get lung cancer.
This campaign is a contribution to the lung cancer community's efforts to improve the rate of early of early diagnosis and to support the UK Lung Cancer Coalition (UKLCC) target for five-year lung cancer survival to be 25% by 2025—an aim supported by the governments of each of the four UK nations. We hope the campaign will highlight the opportunities and potential when all stakeholders in the lung cancer community work together—patients, GPs, oncologists, researchers, the pharmaceutical industries. 
Lung cancer can be hard to diagnose and symptoms in never-smokers can often be non-respiratory, but patients deserve better than the current diagnosis rates. They deserve every opportunity to access potentially curative treatments and we believe this can be achieved. All unexplained or persistent lung cancer symptoms need to be followed up regardless of the person's age or smoking history.
As patients, we are keen to play our part, particularly at a time when the great progress made in lung cancer treatment and diagnosis is under threat.
Jenny Abbott is chair of EGFR Positive UK. She was diagnosed with stage IV lung cancer in 2018.
Competing interests: none declared.