Linda Tutty, a patient with inflammatory bowel disease, and Alaa El Hussana, a colorectal surgeon, discuss how social media can be used to empower patients, promote self management, and co-develop a "real world" core set of patient reported outcome measures for those undergoing colorectal surgery
Linda Tutty, Patient and patient advocate. Twitter: @LindaTutty
I am a patient with ulcerative colitis and have undergone a total colectomy with formation of ileal anal pouch anastomosis for megacolon. I subsequently had another operation due to complications with my pouch. My experience, which also includes a second operation due to complications related to my ileal pouch, and that of other patients, suggests that the norm for most patients, following surgery, is to be left to cope alone with a new "normal" with little or no guidance on what to expect or whether they should record or monitor their symptoms or wellbeing. Post-operative access to specialists with colorectal experience, dietitians, and psychological support is seldom routine. While there are obvious budgetary, and now covid-19, constraints to face to face consultations, it would surely be possible through collaboration of surgeons, nurses, dietitians, psychiatrists/psychologists, and patients to form an online site/app that would allow institutions to advise to patients what to expect, how to manage post-operatively and when to seek medical care?
Flow charts (like ones devised by #Monday night IBD on Twitter) could help patients self-manage their conditions and follow appropriate management pathways. The #MondayNightIBD is a forum where physicians, nurses, and patients interested in IBD meet. Once a week (usually Monday evening) the forum holds a Twitter chat hosting an IBD expert where patients can ask questions.
Twitter is an effective social media tool to connect medical professionals and patients.
Having patients involved in social media collaborations, including this initiative to develop core PROMs for patients undergoing colorectal surgery, should ensure that meaningful clinical endpoints are identified. Patients welcome participation in research to identify PROMs for it allows them to reflect on their health, provides the opportunity to raise issues that clinicians may not be aware of, and fosters a deeper understanding of their condition. It also provides clinicians with an accurate view of what outcomes are most important to patients and have most impact on their quality of life, including difficult-to-discuss subjects such as impact of surgery on people's sex life and faecal incontinence. I was happy to be contacted by the #OpenSourceResearch collaboration because, along with a growing number of patients, I am active on Twitter.
The argument for informing and involving patients in weighing up and deciding on treatment options is strong. If they are not involved it is all too easy for clinicians to "misdiagnose" patient preferences which in turn risks overtreatment. The need for transparency at all stages of clinician and patient interaction is important. The #OpenSourceResearch collaboration approach has proved to be a good example of this and could usefully be replicated in future collaborative research projects. 
Patient self-measurement of core PROMs could, and arguably should, be incorporated into electronic health records (EHRs). This would provide real time longitudinal insights into patients' progress post-surgery in between episodic assessments by clinicians. Giving patients the tools to monitor and record their own disease/recovery in their e-health records will provide the clinicians and other specialists (they see or talk to) with a clear picture of progress and problems, improve communication, and empower patients to take on a greater role in self-management and coordination of care.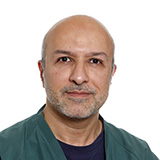 Alaa El-Hussuna, associate professor consultant surgeon, member of ESCP research committee, Lead #OpenSourceResearch collaboration. Twitter: @AlaaEl_Hussuna
Surgery is often the main treatment for early-stage colorectal cancers and is also carried out on around a third of patients with inflammatory bowel disease during their lifetime. Surgery in both groups of patients may result in post-operative complications and functional disorders which profoundly affect their confidence and ability to lead normal lives. Unsurprisingly, patients and surgeons' views of the severity and nature of post operative problems differ.1 In a Danish study of 961 patients and 58 specialists, the specialists flagged the impact of incontinence for liquid stools and frequent bowel movements while patients were more concerned about uncontrollable flatus, urgency, and numerous bowel movements occurring within a short period of time.
Measuring PROMs is therefore important to assess the outcome of surgery and provide advice to patients in whom surgery is contemplated. Patients need information about the risks as well as benefits of surgical treatment so they can make an informed decision about whether to go ahead with surgery. Currently, there are around 57 different PROMs used to assess the outcome of large bowel cancer surgery and more than a dozen PROMs in surgery for inflammatory bowel diseases.4,5 These measures encompass many different aspects of relevance including bowel symptoms, physical function, mental health, social function, and wellbeing. But many of the metrics used are time consuming to measure and few are routinely used in daily clinical practice. Many have only been used only in single research study which makes comparison of results between studies difficult.4
A group of researchers-surgeons joined forces under the umbrella of #OpenSourceResearch collaboration (research organisation) decided to study this issue using online tools and social media to connect a wide range of stakeholders to discuss and co develop a core set of "real world "patient outcome measures for those undergoing any type of colorectal surgery. The initiative was started in January 2019 with six colorectal surgeons-researchers with a special interest in PROMs. They reviewed the existing literature, and then presented and discussed the five most widely used PROMs currently used to to assess post operative outcomes. Many of these were developed with little input from patients and our aim from the outset was to work with the patient community to redress this. We started by reaching out patients and patient advocates who we were in touch with or already following discussions about our first #OpenSourceResearch study about biological treatment in patients with inflammatory bowel disease. In addition we contacted other relevant stakeholders including researchers, physicians, nurses, and patients' organisations. This larger group then co-designed an online survey to choose the most important PROMs and to be disseminated via our online platform.
Regrettably, the survey we launched in January-February 2019 did not attract the number of respondents we had hoped for. It's likely that this was due to the fact that it was close to the outbreak of the covid-19 pandemic which caused an unprecedented disruption in health sector and instantly became the top consuming topic on SoMe.
Despite the small number of respondents (75, of whom 17 were patients), the #OpenSourceResearch collaboration decided to use the results as a springboard for further assessment. The main categories of outcomes identified: General (fatigue, mobility, eating, pain, impact on body image), Psychosocial (emotional, sleep, and social and work life disturbances), and Physical (bowel function, incontinence and urgency, urinary function, and sexual function) are likely to be valid and representative of what matters to patients although they clearly need to be interrogated further. To do this we plan to hold a workshop later this year with all stakeholders including patients' organizations and societies of colorectal surgery to discuss how best to finalize, test, and validate these suggested core PROMs. Please see website: https://www.opensourceresearchcollaboration.net/proms-workshop/
As Linda Tutty put it in her contribution mentioned above; "Having patients involved in social media collaborations, including this initiative, should ensure that meaningful clinical endpoints are identified."
The most five used PROMs according to literature reviews by McNair 2015 and Al-rubaiy 2015. The names and Twitter accounts of the study coordinators.
EORTC QLQ-CR29 @InesRPsurg
IBDQ short health questionnaire @GianlucaPellino @monicamillan72
EORTC QLQ-C30 Ionut Negoi @IonutNegoi
ED-Q5-5L Gaetano Gallo @Gae_Gallo
Short Form-36 Mostafa Shalaby @mostafashalaby
A set of core patient reported outcome measure as suggested by #OpenSourceResearch collaboration
General:
Body image
Fatigue/Mobility
Eating
Pain
Psychological:
Emotional disturbances
Sleep disturbances
Social life disturbances
Work life disturbances
Physical:
Bowel function
Incontinence & urgency
Urinary function
Sexual function
References and Resources:
Chen TYT, Emmertsen KJ, Laurberg S. Bowel dysfunction after rectal cancer treatment: A study comparing the specialist's versus patient's perspective. BMJ Open. 2014;4(1):1–7 

Wiering B, de Boer D, Delnoij D. Patient involvement in the development of patient-reported outcome measures: a scoping review. Vol. 20, Health Expectations. 2017. p. 11–23 

El-Hussuna A, Myrelid P, Holubar SD, Kotze PG, Mackenzie G, Pellino G, et al. Biological Treatment and the Potential Risk of Adverse Postoperative Outcome in Patients With Inflammatory Bowel Disease: An Open-Source Expert Panel Review of the Current Literature and Future Perspectives. Crohn's Colitis 360. 2019;1(3):1–14 

Mcnair AGK, Whistance RN, Forsythe RO, Rees J, Jones JE, Pullyblank AM, et al. Synthesis and summary of patient-reported outcome measures to inform the development of a core outcome set in colorectal cancer surgery. Vol. 17, Colorectal Disease. 2015. p. O217–29 

Alrubaiy L, Rikaby I, Dodds P, Hutchings HA, Williams JG. Systematic review of health-related quality of life measures for inflammatory bowel disease. Vol. 9, Journal of Crohn's and Colitis. 2015. p. 284–92 

Yalcinkaya A, El-Hussuna A; OpenSourceResearch Collaborating Group. #OpenSourceResearch: A novel medical research technique/style in terms of accessibility and way of work. Colorectal Dis. 2020 Oct 4. doi: 10.1111/codi.15392. Epub ahead of print. PMID: 33012082 

Field et al; PROMs data: can it be used to make decisions for individual patients? A narrative review. Patient Related Outcome Measures. 2019:10 233-241

Damman et al. The use of PROMs and shared decision-making in medical encounters with patients: An opportunity to deliver value-based health care to patients. J Eval Clin Pract. 2020; 26:524-540

Albert G Mulley, Chris Trimble, Glyn Elwyn .Stop the silent misdiagnosis: patients' preferences matter.

BMJ

 2012; 345 doi: 

https://doi-org.zorac.aub.aau.dk/10.1136/bmj.e6572

(Published 08 November 2012)Cite this as: BMJ 2012;345:e6572

Video:

Short video about #OpenSourceResearch collaboration: the idea and the perspectives –

https://www.youtube.com/watch?v=Xes0XJoCl3g