America's visa restrictions are frustrating for immigrant physicians, but downright dangerous for the US, writes Mushtaq Bhat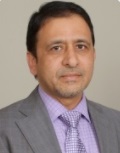 When New York called on doctors to help during their surge of covid-19 cases in April, I wasn't allowed to go. Then last month, when Houston began transferring patients to Dallas, the city where I live, because they were running out of beds, I couldn't extend my hours to help. I've been practicing internal medicine in the United States for a decade, but as long as I'm on my current H-1B visa, I can only work a limited number of shifts for one employer. The rest of the time I sit at home and feel helpless. Meanwhile, our downtown hospitals are in such desperate need that they're bringing in doctors from other states. 
It shouldn't be this way, but an estimated 12 000 physicians with H-1B visas are stuck in a similar situation. According to a recent survey of immigrant healthcare professionals, over 93% would be willing to serve on the frontlines of the pandemic if given the opportunity. But many of them will be held back from acting on that desire to help.
The problem is twofold. Firstly, only 7% of green cards can go to citizens of any single country each year. My green card application was accepted in 2015, but since I'm from India, approval could in theory take 150 years. Secondly, the White House recently banned thousands of international doctors who were poised to start American residency programs from entering the country. There are not enough American medical students to fill those spots, so hospitals are increasingly short staffed.
That's frustrating for immigrants like me, but it's downright dangerous for the US. This country has a severe shortage of healthcare workers and it's only predicted to get worse, with the Association of American Medical Colleges estimating the US could face a shortage of 139 000 physicians by 2033. In 2015, Texas, where I practice, had 20 counties without a single working physician—more counties than any other state in the nation, according to New American Economy, and 63 counties don't have a hospital. 
With physicians retiring and no new doctors to take their place, hospitals are often forced to close. Since 2010, 120 rural hospitals have closed in the US, with 20 of those in Texas. Internationally trained physicians are often more likely to work in rural, underserved areas, but we're unable to fill all these gaps, especially as visa rules tighten. This means many people are being deprived of medical care, especially during such a vulnerable time as this pandemic.
I love this country and am eager to become a citizen. After living in Buffalo, New York for eight years, my wife and I moved to Dallas in 2018, bought a home, and enrolled our kids in school. It never crossed our minds that we would get stuck in this immigration quagmire. If we'd known, we likely would have chosen a different country—something well educated Indian immigrants are increasingly doing. 
My family also depends on my visa, so if I were to get covid-19 and die, they could be deported. I gave my wife a folder with all my important information in case something happens to me. She'd have to sell our home and leave within a month, or risk being detained by Immigration and Customs Enforcement. Two of our children were babies when they came here and don't know anyone in India. The other two were born here and are American citizens. It's a scary time for us. I'm on the frontlines and risking my life, yet I have no protection.  
We love the US, but my wife and I often ask ourselves, is this where we want to stay? If we'd been born in another country, we'd have citizenship by now. It makes no sense. There are banners outside my hospital saying, "heroes work here," but I don't want to be a hero. I just want the same protection and ability to do my job as everyone else. 
Mushtaq Bhat is an internal medicine physician with Texas Health Presbyterian Hospital Dallas.
Competing interests: None declared.
Acknowledgement: Thanks to the non-profit organization New American Economy for their assistance with the article.