Covid-19 has forced rapid change in the delivery of health services. Some have the potential to make healthcare more efficient and responsive to patient's needs. Others may not, so it's essential to evaluate their impact. Gavin Giovannoni, consultant neurologist at Barts Health NHS Trust and colleagues describe the move to provide remote care to patients with multiple sclerosis, and Rachel Horne and Alison Thomson, provide insight into what patients think of them. 
The sudden switch to remote working 
With the onset of lockdown all NHS staff who could work from home were asked to do so. This meant that they had to be given remote access to IT systems. Prior to covid-19, consultants had to wait years to be granted access to electronic patient records from home. Suddenly, within days we were given the freedom to create virtual private networks on our home computers using smartphone technology for secure login and user authentication. 
Some adopted the accuRx platform, others attendanywhere and clinic.co. Zoom, Skype, Google Meet and the Blue Jeans video meeting platforms have also been used for patients outside the UK. The only stipulation our NHS managers and NHS Governance made was to get consent from patients to contact them in a particular way. We are not aware of any confidentiality issues arising with any of these platforms.
Remote follow up appointments and "second opinions" requiring advice and decisions based on pre-existing information and investigations have been relatively easy to conduct remotely. But for new patients who require physical examination and investigations it is more difficult. Initially many consultations were postponed. This provoked much concern so we now talk to new patients online and undertake virtual neurological examinations on some. The quality of examinations performed this way have not yet been validated, but we are currently comparing three-stage online neurological examination (virtuEx) with face-to-face examinations. [1,2]
Video consultations are much better than telephone consultations. Eye contact and the opportunity to pick-up subtle facial communication cues are important. We invite interpreters into the virtual room, where needed. Sharing screens and digital documents in real time has proved a good way to share information and graphics. As patients are usually at home with their medications to hand, it is often easier to get a full list of the drugs they are taking, than it is in the clinic. 
We now contact patients prior to their virtual appointment to advise them how to prepare by self assessing their neurological function and quality of life. Tools to do this include a web EDSS 
(Expanded Disability Status Scale) [3], a self-administered timed-25-foot walk and 9-hole peg test [4] In the future patients are likely to use smartphones to do this [5]. We also ask all patients to complete the MSIS-29 a quality of life survey [6]. Our experience suggests most patients can be assessed and a management plan made on the basis of a single video consultation—provided it is organised and conducted well [7,8]. 
Management of relapsing disease
A common cause of a possible relapse in MS patients is urinary tract infection. We ask patients to screenthemselves using urine dipsticks, prescribed by the GP or purchased online. [9] If they have difficulty reading dipsticks we suggest they photograph it with their mobile phones and share the images with us via email. 
We avoid prescribing steroids for relapses unless these are disabling or associated with pain and intolerable sensory symptoms. Evidence that steroids improve the outcome from a relapse is weak [10,11] and there is a theoretical, although as yet unproven, risk that immunosuppression increases the risk of getting covid-19. [12] Those who are put on short courses of high dose steroids are advised to self-isolate or quarantine themselves for 14 days after completing treatment. 
To enable patients to be treated at home we have switched from IV steroid to oral methylprednisolone tablets (500mg per day for 5 days ). [13,14] The medication is delivered to the patient's home from our hospital pharmacy. An oral formulation of liquid methylprednisolone (Solu-medrone) can also be given and as it is bitter we advise mixing it in with a sweet drink, but not grapefruit juice that can affect its metabolism. [15]
Dramatic scaling back of face-to-face appointments
During the initial three months of lockdown one of us did only three face-to-face consultations compared to hundreds done virtually. These three were undertaken to confirm, and in one case refute a diagnosis of MS, and see and arrange for admission and urgent treatment for a patient with life threatening acute symptoms due to a spinal cord relapse. 
Before a face-to-face appointment takes place, patients are screened for possible covid-19 using an NHS pre-screening questionnaire. Their temperature is taken on arrival to hospital and they are given a pass to move about the hospital. In the future the number of face-to-face appointments looks set to remain low to reduce "footfall" within NHS facilities and the potential for exposure to and spread of the coronavirus. 
New protocols and new home care services 
In response to the pandemic, the MS community produced new guidelines on Disease Modifying Treatments (see Association of British Neurology guidelines) aimed mostly at reducing consultation rates, and time spent in healthcare facilities. For example, "extended interval" dosing was advised for patients on natalizumab. [16] Infusion rates sped up, and post-infusion monitoring times reduced or eliminated. Routine blood tests for those deemed at low risk of developing problems were reduced.
The neurology infusion suite was moved from the Royal London Hospital, which was covid-19 hot, into the adjacent designated "covid-19 cold" dental school. By working with a private provider some patients were able to have a home infusion service. This is safer, less burdensome for patients and cost effective. [17] It also freed-up space to provide social distancing in the hospital suite.
The cancellation or delay of all non urgent MRI studies made us rethink how often we request imaging on our patients. Moving our weekly multidisciplinary team meeting online via Starleaf, has enabled us to invite staff from referring hospital departments and attendance rates are better than the pre covid-19 face-to-face meetings. In collaboration with Neuroresponse, a social enterprise, a home phlebotomy service was set up and phlebotomists, with appropriate personal protective equipment do home visits, take blood and then courier samples to the lab for processing.
We are conducting research to assess the impact of delay in initiating or changing disease modifying treatments.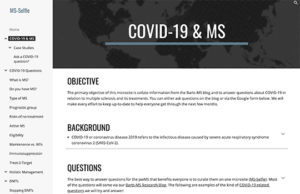 New online resources for patients
At the onset of the pandemic the MS Trust, MS Society and other charities launched helpful information hubs. The information they provide is generic so we set up a microsite called MS-Selfie (MS self-management) with a dedicated Q&A feature where people can ask personal questions, anonymously if they wish, which we answer promptly. This archive has enabled patients to learn from each other's experience. We have also conducted webinars for healthcare professionals, patients, and families on covid-19 and MS, and posted relevant covid-19 research findings on the Barts-MS Research blog. Digesting Science aimed at schoolchildren is a further initiative. 
Patients' perspectives 
Rachel Horne, member of the Barts MS Patient Advisory Group, and Alison Thomson, facilitator of the group, underline the importance of good communication and shared decision making 
Almost all patients felt anxious during the early days of the pandemic knowing people with chronic diseases are at particular risk from covid-19. [18] There was also much concern that some of our drug treatments might put us at increased risk of infection and in-hospital treatment and appointments would be delayed or suspended. For MS patients from a Black, Asian and minority ethnic background, there was further apprehension after it became clear that the death rate of ethnic minority populations from covid-19 was disproportionately high [19].
"There were so many unknowns at the beginning of lockdown. Knowing these BAME statistics really added to my anxiety," said Zuleka Alawi.
Fears could have been allayed if the Barts MS Team had let patients know—via text, email, phone call or post—how the Trust was reconfiguring its services and what changes to expect to treatments and services. It would also have been helpful to tell patients that they could access the Barts MS Research blog and use the MS-Selfie platform to pose questions.
Mixed views about remote consultations 
Telephone consultations, were deemed "fine" in an emergency," but video consultations preferable. Good preparation for either was seen as vital. Patients need to know exactly what is expected of them in advance, for example, will we be asked to demonstrate walking? Will we need to complete a sit-to-stand exercise? Or will there be some other form of remote assessment?
Some, including those who live at some distance from the hospital reported highly positive experiences:
"My annual consultation was more or less on time… rather than waiting in a very busy waiting room for at least an hour. It saved me money in taxis and a lot of time," said Mark Harrington. 
Others voiced concern that some patients would struggle with the new technologies needed for remote consultations and that these were very hard for new patients. Being diagnosed with MS is devastating. Most patients are young where the impact on their life, career, and relationships is particularly profound. [20]. The need for information and support to make informed choices, especially about disease modifying treatments which have appreciable side effects needs to be met. Longer than usual consultations are therefore preferable and the option for close follow up. Understanding, trust and rapport can rarely be built on a single one off remote consultation. Being able to easily reach the medical team via email, phone, or video link is important. Patients hugely value continuity of care too. Having to cope with endlessly rotating teams who don't know your history is very frustrating.
Enthusiasm for self-monitoring 
Patients welcomed the chance to take on a greater role in self-monitoring and self-management. It helps build understanding and makes consultations more efficient. Some of our group were already able to use self-monitoring tools such as the clinicspeak site, the cardboard 9 Hole Peg Test and the MS Register but others need to be informed about them and supported to use them. A Survey conducted in July 2020 found that most patients had still not been asked to self-monitor prior to their appointment [21].
All of us are positive about continuing with remote services. It makes sense to reduce unnecessary visits to hospital and for patients to go to local, convenient sites to have blood tests and even MRI's done. It also would be a real boon to patients with mobility issues to continue to have a phlebotomist come to them to take blood. But timely communication of new approaches to management are essential, and patients should be involved in developing the shape and running of new services.
Members of the Barts MS Patient Advisory Group include Talat Ahmed, Zuleka Alawi, Emma Bennett, Bonnie Boskovic, Patrick Burke, Christine Chapman, Elizabeth Colwell, Mark Harrington and Troy Rice. The group discussed the Barts MS covid-19 MS Survey findings and shared their experiences of the MS service through the covid-19 pandemic. This discussion formed the basis of this article. The group consisted of ten members: seven women and three men (reflecting the demographic make-up of the disease), ranging in age from 20's-60's, from various ethnic backgrounds and at different stages of the disease.
Conclusions:
The service changes in our NHS MS Service to assess and manage patients with MS in virtual clinics have been transformational and have the potential to empower patients and improve the efficiency of services
Virtual clinical consultations have proved easy to set up, cheaper to run than face to face clinics, and allow wide participation but patients need to be fully briefed as to how these will be run and what to expect.
Self-monitoring post-COVID-19 is becoming the norm and patients keen to be more active participants in their care, but encouragement and support is needed for this to happen and advice on how to prepare for follow-up appointments and produce data on how they are doing.
Its essential to formally evaluate the impact of remote services on patient satisfaction and clinical outcomes as they look set to become the "new normal"
Staff have welcomed the opportunity to develop and implement change, The NHS should welcome and support creative development of services co designed with patients.
Gavin Giovannoni, Professor of Neurology, Barts and the London School of Medicine and Dentistry, Queen Mary University of London.
Alison Thomson, Lecturer in Public Engagement and Patient Public Involvement, Barts and the London School of Medicine and Dentistry, Queen Mary University of London.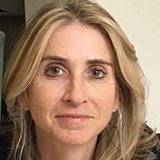 Rachel Horne, member of the Barts MS Patient Advisory Group.
Competing interests: none declared.
Acknowledgements: Freya Edwards, David Baker, Saúl Reyes, Ide Smets, Andrea Stennett, Bernadette Porter, Joela Mathews. 
References:
1 Al Hussona M, Maher M, Chan D, et al. The Virtual Neurologic Exam: Instructional Videos and Guidance for the COVID-19 Era. Can J Neurol Sci 2020;:1–6.
2 Grossman SN, Han SC, Balcer LJ, et al. Rapid implementation of virtual neurology in response to the COVID-19 pandemic. Neurology 2020;94:1077–87.
3 Leddy S, Hadavi S, McCarren A, et al. Validating a novel web-based method to capture disease progression outcomes in multiple sclerosis. J Neurol 2013;260:2505–10.
4 Dubuisson N, Bauer A, Buckley M, et al. Validation of an environmentally-friendly and affordable cardboard 9-hole peg test. Mult Scler Relat Disord 2017;17:172–6.
5 Midaglia L, Mulero P, Montalban X, et al. Adherence and Satisfaction of Smartphone- and Smartwatch-Based Remote Active Testing and Passive Monitoring in People With Multiple Sclerosis: Nonrandomized Interventional Feasibility Study. J Med Internet Res 2019;21:e14863.
6 Midaglia L, Mulero P, Montalban X, et al. Adherence and Satisfaction of Smartphone- and Smartwatch-Based Remote Active Testing and Passive Monitoring in People With Multiple Sclerosis: Nonrandomized Interventional Feasibility Study. J Med Internet Res 2019;21:e14863.
7 Shaw S, Wherton J, Vijayaraghavan S, et al. Advantages and limitations of virtual online consultations in a NHS acute trust: the VOCAL mixed-methods study. Health Services and Delivery Research. 2018;6:1–136. doi:10.3310/hsdr06210
8 Greenhalgh T, Vijayaraghavan S, Wherton J, et al. Virtual online consultations: advantages and limitations (VOCAL) study. BMJ Open. 2016;6:e009388. doi:10.1136/bmjopen-2015-009388
9 Little P, Turner S, Rumsby K, et al. Dipsticks and diagnostic algorithms in urinary tract infection: development and validation, randomised trial, economic analysis, observational cohort and qualitative study. Health Technol Assess 2009;13:iii – iv, ix – xi, 1–73.
10 Burton JM, O'Connor PW, Hohol M, et al. Oral versus intravenous steroids for treatment of 11 Ciccone A, Beretta S, Brusaferri F, et al. Corticosteroids for the long-term treatment in multiple sclerosis. Cochrane Database Syst Rev 2008;:CD006264.
12  Sormani MP, De Rossi N, Schiavetti I, Carmisciano L, Cordioli C, Moiola L, Radaelli M, Immovilli P, Capobianco M, Trojano M, Zaratin P, Tedeschi G, Comi G, Battaglia MA, Patti F, Salvetti M, Musc-19 Study Group. Disease Modifying Therapies and COVID-19 Severity in Multiple Sclerosis. Lancet Published Online First: 1 August 2020.https://papers.ssrn.com/sol3/papers.cfm?abstract_id=3631244
13 Liu S, Liu X, Chen S, et al. Oral versus intravenous methylprednisolone for the treatment of multiple sclerosis relapses: A meta-analysis of randomized controlled trials. PLoS One 2017;12:e0188644.
14 Lattanzi S, Cagnetti C, Danni M, et al. Oral and intravenous steroids for multiple sclerosis relapse: a systematic review and meta-analysis. J Neurol 2017;264:1697–704.
15 Varis T, Kivistö KT, Neuvonen PJ. Grapefruit juice can increase the plasma concentrations of oral methylprednisolone. Eur J Clin Pharmacol 2000;56:489–93.
16 Zhovtis Ryerson L, Li X, Goldberg JD, et al. Pharmacodynamics of natalizumab extended interval dosing in MS. Neurol Neuroimmunol Neuroinflamm 2020;7. doi:10.1212/NXI.0000000000000672
17 Chataway J, Porter B, Riazi A, et al. Home versus outpatient administration of intravenous steroids for multiple-sclerosis relapses: a randomised controlled trial. Lancet Neurol 2006;5:565–71.
18    World Health Organization. Information note on COVID-19 and noncommunicable diseases. 2020. https://www.who.int/publications/m/item/covid-19-and-ncds
19 Patel P, Hiam L, Sowemimo A, et al. Ethnicity and covid-19. BMJ 2020;:m2282. doi:10.1136/bmj.m2282
20 https://jnnp.bmj.com/content/71/suppl2/ii3
21 Giovannoni G. MS COVID-19 Have a say about your COVID-19 MS Service. Barts MS Research Blog. 2020. https://multiple-sclerosis-research.org/2020/06/mscovid19-have-a-say-about-your-covid-19-ms-service/