I count things for a living—trend lines go up, go down, and I check that the story of those lines makes sense. I look for patterns: what are we missing here? What needs to happen next? Where is this going? Lately, I've found myself checking for the meaning behind each covid-19 data point: is that really a case, or a death, or correctly tagged as a healthcare worker?
As a public health doctor I look after populations of people, not individuals, yet the stories I tell are ultimately about people—large numbers of people. The pandemic unfolds before me in waves, logarithms, totals. I may wield my tools of statistics, data capture, automation, and linkage expertly, but I know I can only capture the rough outlines of what is happening. Sometimes late at night I look at a number and think of what lies behind it, the individual lives and stories, the families. 
Healthcare Heroes is a collaboration between Google Arts & Culture and the national charity Paintings in Hospitals. This online portrait exhibition curated by Thomas Croft depicts the stories of our health and care workers, peeling off the plastic layers of personal protective equipment to wordlessly interrogate covid-19.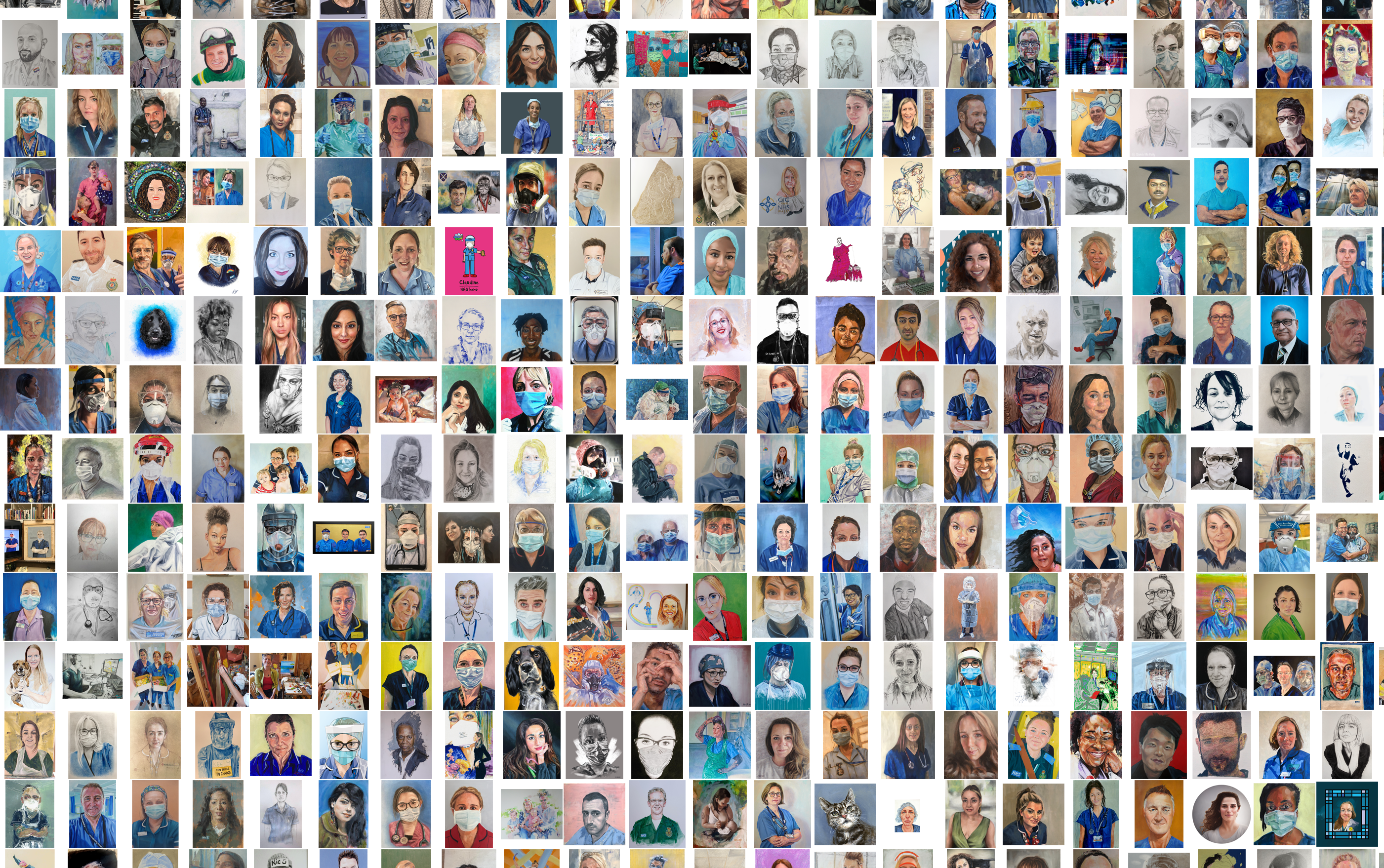 A patchwork quilt of images, the first impression is of a sea of NHS blue, then the eye catches the other colours, the reds, greens, yellows, the varied skin tones. Look further and note the indentations on skin left by masks and visors, the weariness around the eyes, the humour and sprightliness. Each portrait is unique, as the sitters tell their own stories in a dialogue between paint and experience. Here, I see people—their emotion, exhaustion, and their sacrifice—not just data points. It reminds me why I do my job.
What is a hero anyway? These are ordinary people, adorned in plastic, sweltering under it, going back again the next day, and the next: the very healthcare workers that I as a public health doctor do my incomplete best to protect. These are my colleagues, faces that would reassure me if I too end up in intensive care, struggling to breathe. In them I see my scared self in the early days of the HIV pandemic, wondering if I might get infected. I see my niece, a trainee surgeon who is now working on a covid-19 ward. I see those of you who are reading this and who will in a few hours or days go back to work on the frontline. 
As Marion Lynch, nurse leader and fellow trustee at Paintings in Hospitals, says; "We are humans. We need connection with other people. Art acts as an anchor to our humanity." This is a warm and human exhibition, and it dignifies the sitters. It gives me hope that in this pandemic, art will help us to share stories, and heal.
Mary E Black is clinical director and director of health protection at Public Health Scotland. Twitter @DrMaryBlack
Competing interests: I am a trustee of the national charity Paintings in Hospitals.