"Would you feel safe going out alone to buy medicines?"
My words stared back at me as I finished a telephone consultation with a teenage girl late last afternoon. This question would have been so inappropriate in Mumbai three weeks back. We have now completed the recommended 21 days of lockdown with an extension announced into May. The silence is eerie. It feels unreal. India's commercial and entertainment capital, Mumbai is famous for its people and pace. Finding a solitary space with no people in sight is a luxury almost never available. People are running, yes literally, throughout the day; and everywhere, trying to make it somewhere. To bring the city's machinery to a complete stop was impossible I had thought. 
The state of Maharashtra accounts for over a fifth of corona virus infected patients in India, and its capital Mumbai is fast emerging as a hub. One of the most densely populated cities globally, Mumbai has over twice the population of New York or London, with a land area less than half that of London. Over 18 million people inhabit this city. This is about a third of the population of Italy with less than 0.02% of its land area. The fear of spread of disease in Mumbai's slums and likely impact on the population and health services is very real. Several people inhabit a room less wide than the "safe physical distance" advised. Health services are stretched even otherwise. 
The lockdown has been fairly strictly imposed and also adhered to by a majority. Mumbai's famous local trains which ply over 8 million people each day have been brought to a halt. Alongside, other strategies recommended by the WHO such as quarantine, sealing of residential areas, contact tracing, and testing are being undertaken on a war footing. Municipal workers and police personnel have been manning streets, conducting rallies to convey preventive measures on loudspeakers, and doing extensive contact tracing in communities round the clock.  
I gather the situation is similar to lockdown elsewhere, based on news and reports. We are staring at economic challenges, equally urgent but unattended medical needs, mental health challenges of living under lockdown and learning to live with each other in families, and more. Feelings of fear and anxiety are very real as daily counts mount.  Alarmingly, a few deaths in patients tested positive have been due to suicide. Routine medical services have been held up. Our health workforce is taking a hit with the infection, as elsewhere, even as they strive to provide care at the frontlines. Innovations in prevention and treatment are being tried.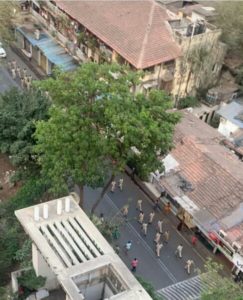 Communities have been affected without doubt, particularly the large swathes of migrant laborers and daily wage earners across Indian cities. Even so, it has been remarkable to see citizens step up to provide cooked meals, groceries, and funds to those with lesser means. The scale of volunteerism and community-driven support mobilized in the wake of the lockdown has been exemplary. Indeed, everyone is having to step up. 
Doctors and patients are learning new ways of communicating in the absence of face-to-face visits. Fever clinics set up in some places have a clear no-contact policy. I am learning to prescribe to children relying on their description of symptoms without being able to check their tonsils, palpate the abdomen, or feel an enlarged lymph node, and compensating with closer follow-up over the phone. At homes, working in a crisis may be more apt terminology as parents, and more remarkably children step up and adapt to very different circumstances. 
Municipal workers, police personnel, and health workers who often go unnoticed, and not infrequently bear the brunt of public angst and criticism, are finally being given due recognition for their relentless service in a crisis. It was a sight to behold when residents in Mumbai's towering skyscrapers clapped and clanged utensils to make some noise for these services while those in adjoining slums responded with equal vigour in unison. Yes, we are united in this fight, as humans. And one thing helps us go day after another day. Hope.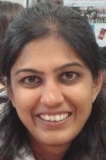 Anita Jain is a clinical editor, The BMJ. 
Competing interests: None declared.