Last week I received an email from Lewisham and Greenwich NHS Foundation Trust providing notification of travel disruption on Friday 14th June:
"Our security lead… has been notified by the Metropolitan Police of a planned demonstration by 'Extinction Rebellion' on Friday 14th June 7.30am-9:00am"
The Lewisham Extinction Rebellion group used the tactic of "swarming"—stopping traffic for short periods of time at major junctions—to cause disruption and draw attention to illegal levels of air pollution in the local borough, which is transected by the A2 and the South Circular, two of the busiest roads in the capital. A local study by researchers at Goldsmiths, University of London in 2017 found PM2.5 (particulate matter <2.5μm diameter) levels at 150μg/m3 in the area—six times higher than WHO guidelines.
I am  a paediatric registrar and I have worked at Lewisham and Greenwich trust for two and a half years. News of the demonstration gave me hope. Far from feeling threatened by potential travel delays (in any case, many of my ex-colleagues walk, take the train, or cycle to work) I remembered the countless numbers of young children who were brought to the emergency department with life-threatening asthma.
Memories of seeing children being wheeled in to the emergency department on their parent's lap in severe respiratory distress do not fade fast. I have memories of scrutinising blood gases with raised lactate levels showing that the child's beta-adrenoreceptors are saturated, meaning that the option of giving more salbutamol, the principal drug for treating acute asthma, has been exhausted. Memories of witnessing the practiced speed of emergency department nursing colleagues drawing up intravenous boluses of magnesium and infusions of aminophylline – administering IV therapy for asthma is an unwelcome familiarity for paediatric emergency department staff in South East London. Memories of making anxious telephone calls to the local paediatric intensive care unit. Memories of waiting for what seemed like hours to monitor a young child, in severe respiratory distress and on full IV therapy, to see if they begin to recover or whether they will need intubation and retrieval. Memories of seeing the looks of helpless concern on the faces of children's families.
For local primary school student Ella-Roberta Kissi-Debrah, oxygen and medication were not enough to treat her asthma and she died in 2013 at the age of nine years. Was air pollution to blame for Ella's death? Ella's mother Rosamund Adoo-Kissi-Debrah believes so. She has turned her grief into political action and is the Green Party's candidate for the Lewisham East parliamentary constituency. She heads the Ella Roberta Family Foundation, which campaigns on air quality and supports medical research into respiratory disease.
Stephen Holgate, who supported Adoo-Kissi-Debrah's successful appeal to get a fresh inquest into Ella's death, found that spikes in the levels of nitrogen dioxide and PM2.5 in Lewisham correlated with episodes of her asthma. In a report he wrote for the family, he said, "There is a real prospect that without unlawful levels of air pollution Ella would not have died". The High Court granted a new inquest into Ella's death in May 2019.
For doctors on the front line like me, who witness the morbid effects of social and ecological destruction on a regular basis, the need to take political action has become clear.
When our political system fails to deliver, in the face of clear evidence that we must act now, the time has come to accept that standard methods of political engagement, such as letter writing, petitions and emails bring, at best, insufficient progress in the right direction. These were insufficient to prevent Ella's death and are insufficient to avert the tens of thousands of annual air pollution deaths in the UK.
Evidence from history suggests that peaceful civil disobedience is the most effective way to bring about change. The time has come for rebellion.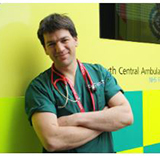 Alex Armitage, ST6 Paediatric Emergency Medicine, Queen Alexandra Hospital, Portsmouth.
Competing interests: None declared.