Kathleen Ferguson, reflects on the importance of rest and urges more NHS trusts to help "fight fatigue"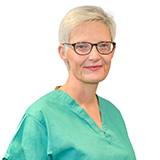 Today is World Sleep Day and it marks one year since the launch of the national Fight Fatigue campaign, a joint initiative of the Association of Anaesthetists, the Royal College of Anaesthetists and the Faculty of Intensive Care Medicine. The campaign aims to raise awareness of the impact of fatigue and shift work on our NHS workforce. Despite growing support for the campaign there is much to be done and fatigue continues to impact the health and wellbeing of those working in the NHS.
I am pleased to see that the Fight Fatigue campaign messages were reinforced in the recent Health Education England (HEE) NHS Staff and Learners' Mental Wellbeing Commission report which emphasises the importance of taking a break and acknowledges the impact a lack of sleep can have on a healthcare professionals' performance at work, particularly during night shifts. The report recommends the NHS provides on-call staff access to sleep rooms and recognises staff may need to sleep on site after an on-call shift before they are safe to travel home.
In my own hospital (Aberdeen Royal Infirmary), we have converted two office spaces into overnight rest facilities where anaesthetists can lie down and have a power nap when they get a break. They can also use the space for a rest following a night duty before travelling home in the morning. Most of our trainee anaesthetists have commutes of more than 30 minutes to and from work. Having a power nap means they are not critically tired when delivering care to patients or when driving home after a night shift.
Space in an acute hospital is scarce, but as a department which includes our managers, we acknowledged that the opportunity to rest was really important. Working in a high intensity role and at times when our bodies and brains believe we should be sleeping is not easy, it's not healthy and performance may be affected. The opportunity to close your eyes and switch off even for a short period feels like a life-line. We recognised and valued the investment we were making in ourselves and feedback has been hugely positive.
As momentum for our campaign grows, we now have support from organisations representing a wide range of specialties, including the Royal College of Pathologists; the Royal College of Physicians; the British Medical Association; Emergency Medicine Trainees' Association; The Royal College of Emergency Medicine; the Royal College of Physicians of Edinburgh and the College of Anaesthesiologists in Ireland.
We urge all our colleagues in the NHS to back our campaign and join our online campaign at www.aagbi.org/letsfightfatigue and ensure everyone understands the risks of fatigue and how to mitigate them.
The BMJ has also launched a campaign calling for doctors to be able to take the breaks that they need—for their own wellbeing and for patient safety. You can take part in the campaign by sharing your examples of where things are changing for the better—or where more work needs to be done—via social media using #giveusabreak
Kathleen Ferguson is President of the Association of Anaesthetists and consultant anaesthetist at Aberdeen Royal Infirmary.
Competing interests: Employed by NHS Grampian as a Consultant Anaesthetist, President of the Association of Anaesthetists, Specialty member of Devices Expert Advisory Group for the MHRA.