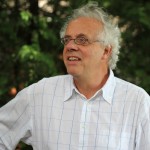 Today the Royal College of Physicians has concluded that the way the NHS runs outpatient appointments is stuck in the 18th century. Many of the appointments are not necessary, and most could be undertaken much more efficiently by using online communication, the phone, or even paper letters and by using staff other than doctors.
The report took me back to a miserable experience I had with my mother at an outpatient appointment, and I thought that I'd share the letter that I sent to the chief executive of the hospital. A long time after I sent the letter I got a response from a consultant saying that they'd reflect on my letter. I don't know if they ever changed their system as I suggested.
I should add that I'm the chair of the board of Patients Know Best, a company that puts patients in charge online of all their medical and social care records and allows secure online consultation and communication through its software.
Clapham London
Dear X,
Let me begin positively. My mother, Hazel Smith, had a prosthesis inserted into her right hip on Tuesday 23 September at the your hospital, and the operation went marvellously. She was walking within a couple of days and largely pain free. Things have continued to go very well, and she had a similar good experience when she had her left hip done a couple of years ago.
Our only minor objection to the recent operation was that she could almost certainly have left hospital on the Friday or Saturday instead of the Monday.
Yesterday, however, she and I had a miserable experience at the follow-up clinic. She can walk a mile easily, has no pain, and her wound is healed and clean. We thus wondered whether we needed to go at all, but we thought that it would be polite to attend. We arrived at 3.10 for a 3.30 appointment. We didn't expect to be seen at 3.30, but partly because of the unpredictability of the traffic we thought we ought to arrive a little before time.
The waiting room was very full, and soon after we arrived there were more people than seats. We did, however, find the last two chairs and sat down to wait. By the time we'd been waiting an hour my mother, who has early dementia, was becoming very restless. "Can't we just go?" she asked. I answered that having come this far we should wait.
Every so often a nurse appeared and apologised for the time we were all having to wait. She told us the first time that "some patients had taken longer than expected." At 4.25 she told us that Mr X's clinic was running about 60 minutes late. This was good news as it meant we should be seen in five minutes. My mother was growing increasingly restless.
In fact, we weren't seen until 5.10—by Mr X's registrar. As we expected, the consultation lasted about three minutes. The registrar established that my mother could walk, had little pain, and that her wound was clean. All of this could easily have been determined over the phone or through a questionnaire.
The whole consultation seemed to add no value whatsoever, and much of the three minutes was taken up with me debating with him whether such follow-ups were necessary. He told me that "back in the old days before political and financial pressure we'd follow people up for years," which seemed a very poor answer.
I'm highly sceptical that routine follow-up is necessary, and the potential saving, particularly to patients but also to the NHS, could be considerable. It might be—as actually is the case now—that patients could go to their GPs if they have a problem and be referred on if necessary. Or routine follow-up might be undertaken by GPs or their teams. Or it could be done by phone. Or patients could be offered a choice. At the moment in your hospital it seems to be routine to call people back after a month and again in three months. We made clear to the registrar that we didn't want to come back in three months but would see the GP if there was a problem.
I have made an attempt to find evidence on the benefit or otherwise of routine follow-up—using the Cochrane Library, NICE, National Library for Health, PubMed, and various other resources; but I've not been able to find anything much.
What I have found is two papers in The BMJ that show there is considerable variation among surgeons in follow-up practices. Unfortunately, this study did not include any orthopaedic surgeons.
I also found a study that showed that telephone follow-up of patients after hip replacement produced information that was as good as face to face follow-up.
I'm sorry that this letter is so long, but I'd like to add just a little more. This negative experience at the hands of your hospital is not all that my mother and I have suffered. I've written blogs on the previous experiences, one of which was on the Guardian website and one on The BMJ website.
I hope that you will agree that ultimately it is your responsibility to improve the experience of patients in how long they wait and to ensure that the activities of the hospital—including practices like routine follow-up—are evidence based and of value to patients.
Yours sincerely
Richard Smith CBE MB BSc Msc FMedSci FRCP FRCGP FFPHM FRCSE FRCPE [I use these initials only when making complaints and writing references, and I should add that I'm no longer an FRCP as I was thrown out for not paying my fees.]
Former editor, The BMJ
Richard Smith was the editor of The BMJ until 2004.
Competing interest: RS is chair of the board of Patients Know Best; he is not paid but has equity in the company. Although no longer a fellow of the Royal College of Physicians, he has recently worked extensively and unpaid on a forthcoming college report on professionalism.