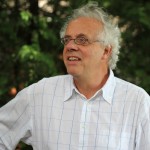 Famously if you are giving a speech what you say is less important than how you say it, which in turn is less important than who you are. So a big and important invited crowd turned up at Imperial College yesterday to hear Joe Biden, 47th vice-president of the United States and cochair (with his wife Jill) of the Biden Cancer Initiative make a call for greater collaboration to defeat cancer. People think, said Biden, that there is a system for responding to cancer, but there is no system. The Initiative, its website says, "is a response to the lack of a cohesive, comprehensive, and timely approach to cancer prevention, detection, diagnosis, research, and care."
The Initiative follows on, Biden explained, from the Cancer Moonshot 2020, announced by President Obama in his State of the Union at the White House in October 2016. Biden, whose son Beau died of a brain tumour in 2015 at age 46, told the audience that he knew nothing of the Moonshot until he was put in charge of it. He said how President Obama liked to make announcements and then say "And Joe will do it" just to see the look on Biden's face.
The Moonshot was funded with $1.8 billion over seven years and had, said Biden, two main aims—to speed progress, to achieve in five years what would otherwise take 10 years, and to "change the culture, develop new strategies." Biden referred back to President Nixon's war on cancer, of 40 years ago, which was largely a failure, and said that Nixon had "no army, no tools," whereas today there are many new tools. Biden told the audience that he knew that when he decided not to run for president in 2016 he would be asked by reporters if he had any regrets and said that he would regret not being the president when cancer was defeated.
In February 2017, just after President Trump took office, the Cancer Moonshot 2020 was changed to Cancer Breakthroughs 2020 with the goal of finding vaccine-based immunotherapies against cancer. Biden said, however, that the fight against cancer was the one issue that overcomes bipartisanship in the US. If we knew, he said, that $100 billion would eliminate cancer we would find that money. He said that he had no intention of starting the Biden Cancer Initiative, but was asked to do so to ensure that the momentum of the Moonshot was not lost. His two qualifications for the job, he said, were his ability to bring people together and to shame people.
The emphasis of the initiative is very much on collaboration, and Biden said how he wanted the programme to grow into a movement. The initiative has some 80 collaborations that bring together researchers, clinicians, patients, pharmaceutical companies, and others. There are collaborations around new drugs, allowing them to be tested more rapidly, and around blood specimens, proteomics, genomics, prevention, and much else. Biden said he wants to see the same sense of urgency for cancer that there has been around infectious disease.
Biden also wants to help patients navigate the health system. He could, he said, use his phone to look up what's showing at a movie theatre in rural Minnesota, but there was no way for him to know about a clinical trial that might be helpful. Biden's vision is also international: ""We cannot accept disparities of outcomes by race, gender, and geography….We cannot accept unaffordable treatments." The Initiative's annual summit included not just stakeholders, including patients, gathered together in Washington DC, but also 450 local summits—in every state of the US and Nigeria, Kenya, and Guatemala. The aim is to become a global collaboration, and the talk at Imperial was a step in that direction.
"I can see the day," said Biden sketching a vision of the future, "where prevention is more effective, when care is personalised and side effects are less harmful. When children are vaccinated against cancer. When we can identify through markers in the blood cancers that haven't developed yet. When we can identify early signals of cancer in the blood through fragments shred from cancer cells. There is hope."
Biden ended by both flattering and challenging his audience: "I've never seen folks as bright and who work as hard as all of you. You are the most talented community in the world." He concluded: "Please break down the silos, continue to collaborate in ways that haven't existed before."
Richard Smith was the editor of The BMJ until 2004.
Competing interest: RS is an unpaid adjunct professor in the Imperial College Institute for Global Health Innovation.