The experiences of people seeking asylum can be hard to hear, but we must listen
Summer news is often sparse. But this summer was marked by a number of high profile stories. Children were separated from their parents on the US/Mexican border, migrants arriving by sea to Italy were denied access to Europe, the Windrush scandal broke, and immigration was a key issue in the ongoing stalemate around Brexit.
As more countries talk about adopting zero tolerance immigration policies, narratives shift, racist rhetoric is normalised, and a culture of prejudice can grow. Even the short lived use of billboards in the UK warning illegal immigrants to "go home or face arrest" gave rise to legal migrants experiencing increased racial prejudice.  
Against this backdrop, Joe Murphy and Joe Robertson's play The Jungle couldn't be more necessary. "The Joes" established the Good Chance Theatre in the Calais refugee camp back in 2015, as governments wrangled over the large number of migrants making the journey to Europe, and thousands were caught in limbo in the camp in France that became known as "the Jungle." The stories told in the camp's theatre have been woven together to form a play and the camp has been recreated in the Playhouse Theatre, London. The stalls become the Jungle's Afghan café and the balcony seats are renamed "the White Cliffs of Dover." Milky chai is handed out before the play and there is mud underfoot.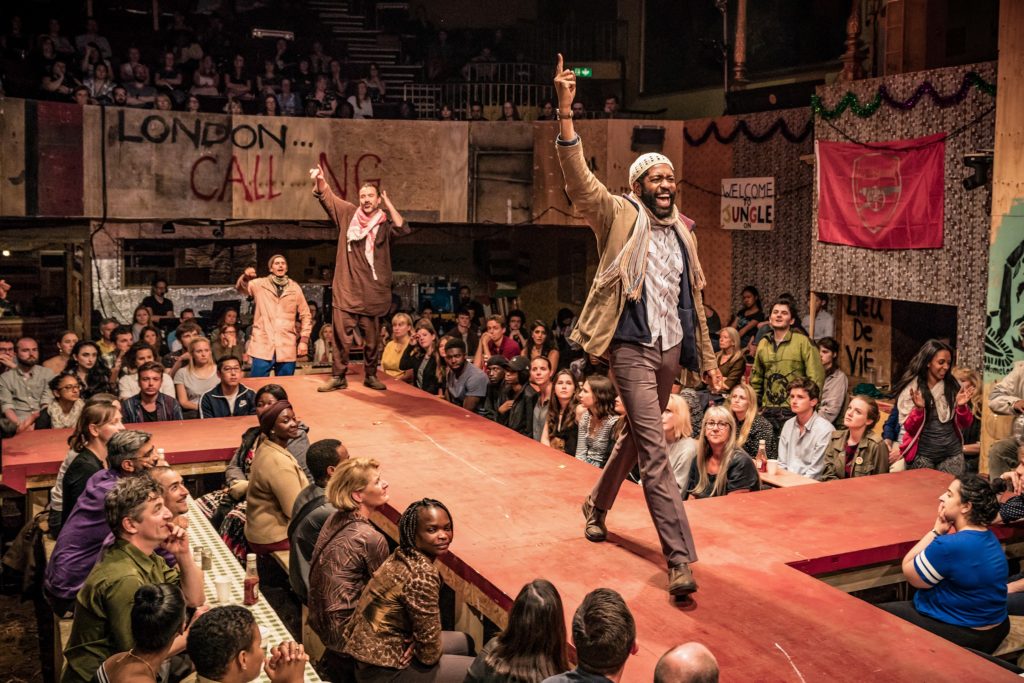 The Jungle residents were our close neighbours, just an hour from London, "in not under the Eurostar." Up to 10 000 refugees, asylum seekers, and migrants, including many unaccompanied children, came to the Jungle and hoped for the "good chance" of getting to England—many risking their lives attempting to hide in/on/under lorries, boats, or trains.
The Calais camp was a place of suffering and often fear—especially for the unaccompanied minors for whom the camp environment has been described by mental health and legal professionals (as well as some of the young people themselves that we have worked with) as re-traumatising and damaging to their emotional development. But it was also a place of hope: in the words of Safi, The Jungle's Syrian narrator, "more hope than you've seen in all your lifetimes."
At the heart of the play is 17 year old Okot's account of why he left home and the traumas of his journey, each experienced as another death. The fragmented narrative of his journey and the distance he creates for himself from it—"We didn't survive. We are different now"—is similar to others we have heard from young migrants. Often their stories and memories are too difficult or painful to tell in their entirety, and there are high levels of psychiatric morbidity, especially depression, anxiety, and post-traumatic stress disorder (PTSD), in this population.
However, it is largely these narratives, told in the interviews which may take place just days after getting the "good chance" to come into the UK, that authorities rely on to judge the legitimacy of asylum claims. Avoiding or being unable to remember details of a traumatic event is part of the diagnostic criteria of PTSD, so these narratives can often seem incomplete or inconsistent—a cruel paradox that risks trapping those in need of asylum.
The play touches on the fact that people's difficulties do not stop after arriving in the UK. Although research in this area is growing, our understanding of the experiences, hopes, and fears of young migrants after they arrive in the UK remains limited and there is evidence of a low uptake of mental health services, despite high levels of psychological distress.
Clearly, we could do better at supporting young migrants to adjust and heal in their new country. One lesson may come from what was an unusually uplifting tale this summer: that of the Thai boys trapped in a cave. The Thai authorities understood the need to handle the transition of the children from one scary place to what could have been another—a news hungry outside world. They allowed the boys a period of contemplation in a monastery away from media attention to help them come to terms with their extraordinary story. We may have something to learn from them about managing difficult transitions.
The Jungle challenges the discourse of "zero tolerance" by allowing us to hear the often unheard or misrepresented narratives of people who have made what Safi calls "journeys of hope." These stories are often hard to hear and even harder to tell.
Psychological therapy for PTSD usually involves gradually narrating the trauma, but this is not recommended until someone is living in a supportive, stable environment. Unfortunately, by the time this occurs, if it occurs at all, most people have had to tell their story many times: in interviews, clinics, and even sometimes courts. The Good Chance Theatre was created as "a space where people can tell their stories safely, warmly, and openly." We should aim to recreate this in all the places where these stories are heard, and in the spaces they are not. 
The Jungle runs at the Playhouse Theatre until 3 November.
Helen Roberts is a professor of child health research at UCL Great Ormond Street Institute of Child Health. She works on inequalities in child health and what can be done about them.
Competing interests: I have read and understood BMJ policy on declaration of interests and declare the following interests: None.
Susie Walker is a consultant child and adolescent psychiatrist and an NIHR doctoral fellow at UCL Division of Psychiatry and GOSH Institute of Child Health. She is currently looking into the use of the Mental Health Act among children and adolescents. You can follow her on Twitter @SusieElizabethW
Competing interests: I have read and understood BMJ policy on declaration of interests and declare the following interests: I do occasional expert psychiatric reports for young asylum seekers and refugees. Nothing further to declare.