The National Institute for Health Research (NIHR) is highlighting seven research legends whose work has shaped the NHS, as part of its celebrations for the NHS's 70th birthday and the NIHR's I Am Research campaign. In the sixth entry in the Research Legends series, Professor Christine Roffe outlines the distinguished career of Professor Gary Ford, whose research has transformed acute stroke care in England and further afield.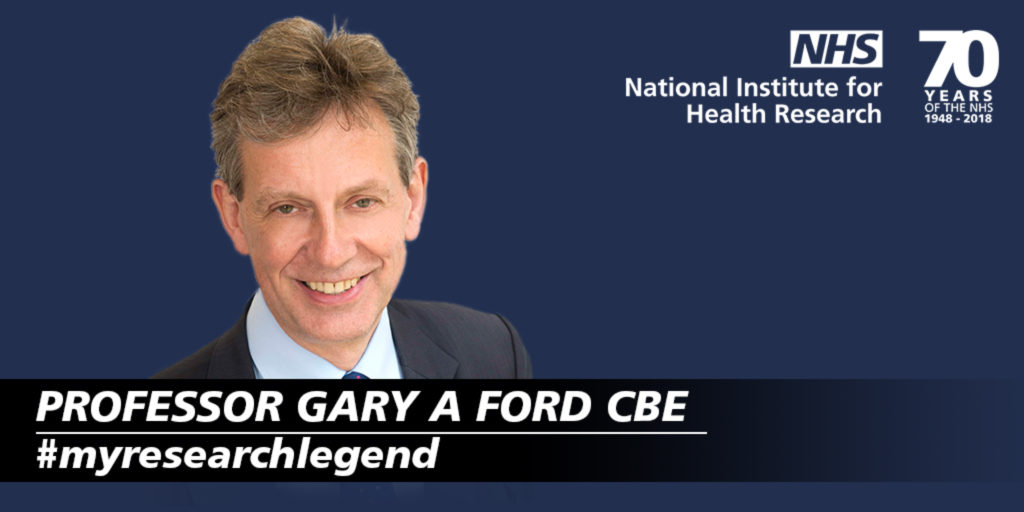 More than 100 years ago the Canadian doctor William Osler, a man often called the father of modern medicine, made the famous statement: "It is the duty of the physician to explain to the patient or his friends that the condition is beyond relief, that medicine and electricity will do no good, and that there is no possible hope of cure."
But in the 1990s and early 2000s, things were changing dramatically for stroke, a condition with no treatment and that often proved fatal. A meta-analysis of a number of small stroke trials conclusively showed that care on specialist stroke units reduces death and disability after stroke. And a randomised controlled trial conducted in the US showed that alteplase, a clot-busting (thrombolytic) drug used in the treatment of heart attacks, was also effective at treating strokes, but only if given within three hours of stroke onset.
It was in these exciting times in the world of stroke that Professor Gary Ford spent his early years as a consultant, working as a clinical academic with an interest in geriatric medicine and pharmacology in Newcastle upon Tyne.
An early adopter of game changing interventions
Acting on these momentous findings, Ford set up the stroke unit and—as one of the first in the UK—the thrombolysis service in Newcastle. The pathway he developed has since been used as a template for thrombolysis in many stroke units in the UK. As the national lead of the international Safe Implementation of Thrombolysis in Stroke (SITS) programme, Ford coordinated the UK arm of the SITS International Stroke Thrombolysis Registry, which provides data on the use of alteplase that have informed clinical practice worldwide. This registry and the associated training courses have allowed many more clinicians to provide thrombolysis treatment safely.  
To support paramedics and A&E staff in identifying patients with stroke, Ford and his team developed the Face Arm Speech Test (FAST) and the Recognition of Stroke in the Emergency Room (ROSIER) tool. Both screening tools are now used nationally and internationally to identify strokes rapidly and allow faster treatment.
FAST was proving so simple and effective that the tool was subsequently promoted beyond medical and academic circles in a national public campaign. Most adults in the UK are now aware of the signs of stroke, and it is quite usual for patients to be brought to hospital as a result of a relative who has done the FAST test, recognised that the signs indicate a potential stroke, and called an ambulance.
A world leader in stroke research networks
In 2005, Ford set up the National Institute for Health Research (NIHR) Stroke Research Network. This infrastructure, which initially comprised eight regional networks with research staff in almost every stroke service in the country, has led to a massive increase in the ability of hospitals to enroll patients into large multicentre studies in stroke. Thanks to this network, UK patients and healthcare staff have been able to take part in practice changing trials such as IST-3, CLOTS 1-3, ENOS, ENCHANTED, INTERACT-2, and SO2S.
The network made the UK a "go-to" place for large multicentre academic and industry funded research studies. This model was so successful that it has been adopted by the National Institute for Health in the US (StrokeNet), and more recently also by Europe (ESO stroke net) and internationally (Global Alliance of Independent Networks focused on Stroke trials; GAINS). Professor Ford is now rightly seen as a world leader for development of stroke research networks.  
He also introduced the concept of hyperacute stroke research centres, with extended research nurse and clinician cover, and facilities for advanced imaging and interventional treatments. Ten of these were funded by the NIHR in 2008 to facilitate state of the art acute stroke trials such as the PISTE study—one of eight large multicentre trials that demonstrated mechanical thrombectomy is safe and effective. The centres greatly boosted recruitment to complex hyperacute stroke trials and put into place infrastructure that is now the foundation for the development of thrombectomy services in the UK. Demonstrating the effectiveness of this procedure has changed clinical practice worldwide, with many more stroke patients recovering with no or minimal disability.   
In his current roles of chief executive officer of the Oxford Academic Health Science Network, consultant physician at the Oxford University Hospitals NHS Foundation Trust, and visiting professor of clinical pharmacology at Oxford University, Professor Ford continues to spearhead clinical research.
Making a difference
Professor Ford has been instrumental in embedding research into almost every stroke unit in the UK, which at long last disproves William Olser's edict, with not only medicine and electricity, but also other interventions—not imaginable in Osler's days—contributing to better outcomes. His services to stroke service delivery and stroke research have been recognised by the award of a CBE.  
Note: Professor Roffe's article was originally published on the NIHR website.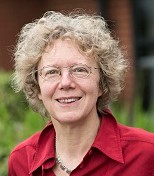 Christine Roffe is a stroke physician at the Royal Stoke University Hospital and professor of stroke medicine at Keele University. She leads the National Institute for Health Research Hyperacute Stroke Research Centre Oversight Group and is a member of the UK Stroke Forum Steering Group.
Competing interests: I have read and understood BMJ policy on declaration of interests and declare the following interests: Gary Ford was the national lead for the stroke research network and for hyperacute stroke centres. I was the lead of one of the local stroke research networks and HSRC lead for our hospital. I contributed a chapter to one of his books in 1997. We co-authored several articles. He was referee for my promotion to professor in 2009.
The views and opinions expressed in this blog are those of the authors and do not necessarily reflect those of the NIHR, NHS or the Department of Health and Social Care.