Matthew Walton discusses the importance of education and peer support in medical school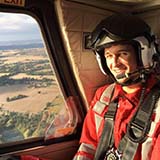 As a medical student on a short placement with an air ambulance service, I loved the drama of leaping into the helicopter and flying to emergencies. I relished the adrenalin rush, until my last flight with Essex & Hertfordshire Air Ambulance. We knew it would be bad when the emergency caller unexpectedly referred to a "possible dead child" instead of using the formal medical term "paediatric traumatic cardiac arrest."
Having never seen a dead child before, I felt increasingly deep dread as we flew to the scene. It was much worse than I had imagined, with a critically ill child in the midst of blue flashing police lights, hysterical onlookers, and hectic activity. The pre-hospital care doctor and critical care paramedic were calm, situationally aware and technically brilliant, but they could not revive the infant. I managed to keep focussed and professional. But later, the full horror sank in.
Back at base, the paramedic suggested a debrief. The pilot, a father, left the room, but the rest of the team ran through the events step by step, as objectively as possible.
What does anyone do when they go home after a scene like that? Luckily, I asked advice on processing such a traumatic experience, trying to put it out of my mind. The doctor with Essex & Hertfordshire Air Ambulance took time to talk about our reaction to extreme critical incidents, warning that shocking sights and emotional upset could return as flashbacks. They might feel overwhelming, often at unexpected moments.
All this happened on the last afternoon of my placement, so the following day I relived the events with my placement director. My partner student also confided about tragic cases she was struggling to process. They were part of the everyday repertoire of an air ambulance crew—a cardiac arrest, an aortic dissection, a suicide. But for us medical students there was nothing normal about such fatalities.
Within the first week, the doctor's predictions came true. Flashbacks, intrusive thoughts invaded my mind and once I even sat in my car sobbing.
Some time later, at the Essex & Hertfordshire Air Ambulance Aeromedical Conference called Minds Matter, I met up with the paramedic who had been on the same flight as me. For the first time since the debriefing, we compared notes and realised both of us had had to cope with psychological difficulties which diminished over time.
However, my debriefing conversations had reassured me that I was not alone. The air ambulance doctor's words of advice proved reassuring. If he hadn't explained the possibility of these emotional reactions, my experience would have been much worse. He even followed up by contacting me months later asking how I was.
Thanks to the conversations and support I received, I never doubted my sanity, or my ability to be a good doctor. Sharing my fears and anxieties has made me more resilient.
We don't learn how to debrief in medical school. But I have learned how incredibly important it is to talk about a shocking experience and its repercussions. I've heard Neil Greenberg say at a conference that, "Resilience may not lie within individuals, but between individuals." Medical schools and blue light services should follow the example set by Essex & Hertfordshire Air Ambulances' staff. They should acknowledge that all clinicians have mental health needs. Students should be taught how to process their own trauma. Staff should be encouraged to share their personal experiences. And the value of a follow up phone call cannot be overestimated.
Matthew Walton is a newly graduated doctor from the University of Cambridge with an interest in pre-hospital care and resilience. He is starting F1 this year in London.
Competing Interests: None declared.