If it doesn't happen in the community, it doesn't happen in the nation. If it happens in every community, it happens in the nation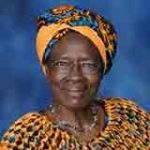 Seven years ago, Commonwealth heads of state came together in Perth and united behind a vision of polio eradication. They dug deep into their pockets and doled out millions of dollars to help get lifesaving vaccines to children in some of the most difficult places in the world.
Eight years later and the world is on the verge of polio eradication, with only 22 cases of the disease recorded in 2018. As Commonwealth leaders met this week in London, they chose to celebrate efforts on polio eradication by committing to tackle another deadly disease: malaria.
Malaria is one of the world's oldest and deadliest killers. Every two minutes, a child somewhere around the world dies from the disease, with two thirds of these deaths taking place in Commonwealth countries. Scaling up efforts to combat malaria is now more important than ever, with the recent World Malaria Report showing that for the first time in years, we are no longer making progress against the disease.
There's widespread agreement on what's needed to turn the tide against malaria: more funding and new and better tools, including medicines, diagnostics, and vaccines. Research and development for malaria is especially high on the agenda, with growing drug resistance and mosquito resistance to insecticides, as well as the lack of a licensed vaccine to protect us against the disease. Yet there's something else needed to end malaria that people aren't talking enough about: strong health systems.
Strengthening health systems from the bottom up has implications not just for the global fight against malaria, but also for progress against a range of other diseases. While there's no single formula for building a strong health system, we know the essential elements of success. These include community-based primary health care and cross-cutting policies and regulations that ensure new and existing tools and treatments can quickly and safely get to the people who need them.
Primary health care is a platform to reliably get both lifesaving antimalarial treatments and prevention tools, like insecticide-treated bednets, to people and communities in need. Bednets are one of the most effective ways to prevent malaria, but still aren't being used universally, in part because of the challenges in driving long-term behavior change. As trusted resources who can address patients' health needs in their communities and throughout their lives, primary health care providers are well-placed to drive this change and distribute the tools and treatments needed to end malaria and other diseases. Research from my home country of Kenya shows that having access to primary health care facilities can reduce the burden of malaria by up to 66%.
At the same time, countries also need cross-cutting policies and regulatory and monitoring systems to ensure that lifesaving tools and treatments are rolled out quickly and safely. There's finally hope of a malaria vaccine on the horizon, but without the right policies and safety monitoring systems in place, it won't reach the people who need it before it's too late.
Making these changes to these underlying systems isn't fast or easy. Yet in recent years, some countries have taken encouraging steps forward.
The governments of Ghana, Tanzania, and Indonesia are all working to develop national medicines policies, strengthen safety monitoring systems and introduce priority-setting processes, to ensure that when new tools and treatments are developed, they are rolled out rapidly and reach the people who most need them. These countries need to work with the Access and Delivery Partnership—a partnership between UNDP, the World Health Organization, PATH, and the Special Programme for Research and Training in Tropical Diseases—to drive these reforms. While safety monitoring systems and national medicines policies aren't top of mind when one thinks of ways to combat malaria, they're critical to creating the enabling environments needed to distribute the lifesaving tools and treatments to defeat the disease.
At this week's biannual meeting, Commonwealth leaders pledged to halve malaria deaths in the next five years—an unprecedented commitment and one that signals increased global momentum on this critical issue. Yet unless these resources go toward health systems strengthening—beginning with essential health services delivered at the community level—as well as research and development for new malaria tools and treatments, they will not go far enough.
The Commonwealth leaders weren't the only ones who met to discuss malaria this week. A group of researchers convened in Dakar, Senegal, for the annual Multilateral Initiative in Malaria (MIM) conference, where they discussed the latest scientific advancements that can help end the disease.
Health systems didn't feature in either discussion, despite their fundamental importance to driving progress on malaria and a range of other issues. It's time to change course and scale up investments in health systems in order to follow in the footsteps of the polio eradication effort and move toward a malaria-free world.
Miriam K. Were is a Kenyan public health advocate, doctor and academic. She received the Hideyo Noguchi Africa Prize—an international medical research and services award—for her work to bring medical services to millions of women and children in Africa.