Every week this new series will uncover an unreported clinical trial
Nicholas J DeVito and Ben Goldacre
Background
The US FDA Amendments Act (FDAAA 2007) requires certain clinical trials to report their results onto ClinicalTrials.gov within one year of completion. Our FDAAA TrialsTracker shows all individual trials that breach this legal requirement. Once a week, we write about one unreported clinical trial: you can read more background here.
Trial NCT01535937
This week's unreported trial is "The Effect of Brief Potent Glutamatergic Modulation on Cocaine Dependence" (NCT01535937). This study enrolled 55 participants, 21 to 60 years old, who had an active cocaine dependence. Participants, treated at the New York State Psychiatric Institute, were randomised to receive ketamine or midazolam (an active comparator) during inpatient treatment for cocaine dependence, followed by four weeks of outpatient follow-up. The primary outcomes were: time to first cocaine use during follow-up; and "abstinence", defined as two or more weeks without cocaine use. These were measured through toxicology screening and patient self-reporting. Secondary outcomes included assessments of stress, cue reactivity, and mindfulness. This study was blinded for all participants, care providers, investigators, and outcomes assessors. The primary completion date is given as February 2017.
This trial's enrollment status is listed as "Terminated" with the reasoning: "an analysis demonstrated that running the final participants was unnecessary." There is no indication as to what these interim results showed regarding the effectiveness of ketamine in treating cocaine dependence. The FDAAA 2007 and ClinicalTrials.gov are clear that terminated trials are required to report results onto ClinicalTrials.gov (only "withdrawn" studies, where no participants received any treatment, are exempted). For this trial, 55 participants had been recruited, against a target of 60.
Discussion
The promise of a commonly used drug such as ketamine for treatment of cocaine dependency is exciting and interesting research that could impact millions of people around the world. Recent research has shown that ketamine may be effective as an antidepressant as well as a treatment for substance abuse. The PI of this study has already published a number of studies relating to the potential impact of treatment with ketamine on cocaine dependency. However none of these match the registered protocol on ClinicalTrials.gov and searches on Pubmed and Google Scholar returned no additional results.
The negative health impacts of cocaine abuse are well documented. There are currently no medications approved by the US FDA for the treatment of cocaine addiction. An estimated 6.9 million people suffered from cocaine dependence globally in 2010. 2014 survey data estimated 1.5 million cocaine users aged 12 or older in the US; 913,000 met the DSM-IV definition for abuse of cocaine within the past 12 months. Cocaine abuse accounted for over one-third of all drug misuse or abuse related emergency department visits in the US in 2011. A recent analysis showed that 2015 had the highest number of cocaine-related overdose deaths in the US since 2006 with potential links to the ongoing opioid crisis.
Conclusion
This unreported trial was sponsored by the New York State Psychiatric Institute in collaboration with the National Institute on Drug Abuse (NIDA). It was funded under a NIDA grant of $186,192. The PI is Elias Dakwar and the Study Chair is Herbert Kleber. We hope the investigators will share the results of this trial soon.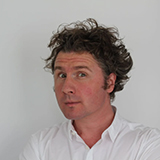 Ben Goldacre is a doctor, author, and director of the EBM DataLab at the University of Oxford. He co-founded the AllTrials campaign for trials transparency.
Competing interests: BG has received research funding from the Laura and John Arnold Foundation, the Wellcome Trust, the Oxford Biomedical Research Centre, the NHS National Institute for Health Research School of Primary Care Research, the Health Foundation, and the World Health Organization; he also receives personal income from speaking and writing for lay audiences on the misuse of science. ND is employed on BG's LJAF grant.