Urgent funding is needed to protect the health and wellbeing of Rohingya refugees throughout the rainy season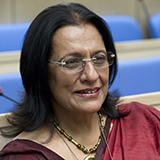 In Cox's Bazar, Bangladesh, three things are immediately apparent. Firstly, the sheer volume of Rohingya refugees—almost 900 000 now reside in settlements and camps that border Myanmar. Secondly, the challenging conditions in which they live and the pressing health needs they face, from basic healthcare—including access to safe birthing facilities—to protection from a range of vaccine-preventable diseases. And thirdly, healthcare workers' tireless efforts to meet those needs, whether from volunteer immunizers, health cadres seconded to the area by Bangladesh's Ministry of Health, or professional humanitarian aid workers working for local NGOs, INGOs, and UN agencies.
Last week when I visited what is now a vast and complex network of settlements, camps, health facilities, and ad-hoc markets, these facts were readily discernible. So too was the parched terrain that covers much of the land on which the Rohingya now reside. That terrain was arid, hard, reliable, and coarse: The kind of terrain on which shelter can be built and bore-wells established. Indeed, the kind of terrain that has facilitated an effective—albeit intensely complex—emergency response to date.     
But much is about to change. Bangladesh's monsoon is fast approaching. So too is a range of challenges that will put colossal strain on the health sector's ability to protect the health and wellbeing of an immensely vulnerable population and ensure the continuity and scale-up of pre-existing health services.
Those challenges will be formidable, especially given recent deforestation: The monsoon will bring rains that can turn clay to cascading mud; floods that can turn low-lying settlements into barely habitable cesspools; stagnant water in which mosquitoes can breed and spread life-threatening disease; and fresh obstacles to ensuring safe water and sanitation, compounding an already fraught scenario. The risk of cyclones makes the outlook particularly volatile.     
The World Health Organization, which, alongside the Ministry of Health, is coordinating more than 100 partners, has made detailed preparations for monsoon-related risks. Contingency plans have been developed. Simulations have been undertaken. Health facilities are being relocated to areas that will remain accessible. And life-saving medical supplies and equipment have been pre-positioned to ensure a rapid response as and where needed.
Another round of cholera and measles vaccination campaigns are planned this month, in addition to the 900 000 doses of oral cholera vaccine procured and administered in October with the assistance of the International Coordinating Group on Vaccine Provision, and Gavi, the Vaccine Alliance, as well as more than 200 teams of local volunteers. Add to that two WHO-supported vaccination campaigns for measles and three for diphtheria that concluded in late March, as well as ongoing surveillance and data-sharing via WHO's Early Warning, Alert and Response System. Since September, WHO has delivered more than 120 tons of life-saving supplies to support the Ministry of Health and local and international partners.
But in an emergency that is both protracted and prone to acute events and outbreaks, the stakes have been raised. The health sector's ability to continue to respond effectively—especially through the rainy season—depends on the resources at its disposal. To that end, WHO has appealed for USD 16.5 million from partners to facilitate its operations throughout 2018. That appeal is part of the USD 113.1 million sought by all health sector partners under the Joint Response Plan for the Rohingya crisis.
Time is of the essence. The sooner the health sector gets the funding it needs, the sooner it can scale up critical health services and secure present and emerging health needs. Importantly, those needs go beyond monsoon-related risks and can, for the most part, be delivered via a settlement- and camp-based network of primary health care centers.
Services for reproductive, maternal, and child health, for example, must be accessible and operational. So too must be services for communicable and noncommunicable diseases, which can too often be overlooked in humanitarian contexts. Given the specific nature of the emergency, services that provide psychosocial support are likewise of vital importance. These and other amenities must be secured with immediate effect. More than that, they must be augmented as part of an ongoing commitment to the health and wellbeing of almost 900 000 immensely vulnerable people.    
That is a critical point. There are no quick fixes to the current situation. Or at least none that will take effect before the monsoon's arrival, and with it the Bay of Bengal's often-deadly cyclone season.  
Storm clouds are gathering. Lives can be saved. The international community must act now. They must do so with decisive, resolute, and actionable support.
Poonam Khetrapal Singh is the regional director for WHO South-East Asia.