Every week this new series will uncover an unreported clinical trial
Nicholas J DeVito and Ben Goldacre
Background
The US FDA Amendments Act (FDAAA 2007) requires certain clinical trials to report their results onto ClinicalTrials.gov within one year of completion. Our FDAAA TrialsTracker shows all individual trials that breach this legal requirement. Once a week, we write about one unreported clinical trial: you can read more background here.
Trial NCT03115177
The week's unreported trial is "Can Addition of Doxycycline Perioperatively Reduce Propionibacterium Acnes in Shoulder Arthroplasty?" (NCT03115177). This study enrolled 56 participants, 40 to 90 years old, undergoing shoulder replacement (primary total shoulder arthroplasty). Patients were randomised to receive either cefazolin (the current antibiotic standard of care) or cefazolin plus doxycycline during surgery. The primary outcome was cultures showing presence of Propionibacterium acnes (P. acnes), a bacterium that can cause complications with shoulder procedures. The trial was not blinded. The completion date is given as February 2017.
Discussion
Shoulder replacements are common, with 66,485 operations in the US 2011, and incidence rising in the US, Australia, and UK. Infection after shoulder surgery is one of the most common complications, with prevalence reported at 0-4%, and P. acnes the most common cause. One recent study estimated the cost of two-stage reimplantation following an infected shoulder arthroplasty at $35,824. Knowing whether a commonly used drug, such as doxycycline, can help prevent infections following shoulder replacement could therefore be very valuable for orthopedic surgeons, patients, and health services around the world. The FDAAA requires researchers to post results directly into clinicaltrials.gov: however, searching Pubmed and Google Scholar also found no publications related to this study.
Conclusion
This unreported trial was sponsored by Rush University Medical Center in Chicago, USA. The PI is Dr. Allison Rao who took responsibility for the registry information. We hope the investigators will share the results of this trial soon.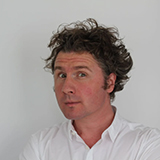 Ben Goldacre is a doctor, author, and director of the EBM DataLab at the University of Oxford. He co-founded the AllTrials campaign for trials transparency.
Competing interests: BG has received research funding from the Laura and John Arnold Foundation, the Wellcome Trust, the Oxford Biomedical Research Centre, the NHS National Institute for Health Research School of Primary Care Research, the Health Foundation, and the World Health Organization; he also receives personal income from speaking and writing for lay audiences on the misuse of science. ND is employed on BG's LJAF grant.