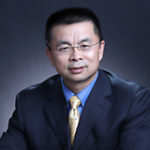 There is a notice board close to the entrance of our ward. Patients and their families, as well as medical staff, use it to express caring messages to each other, and wishes and hopes for their health by posting notes on the board. 
The notes are warm and touching: "I hope you get better soon, mom", "I love you, sweetheart", "Thank you, Dr. xxx, me and my family always appreciate your help", "You are very strong and we are proud of you," and so on.
This board was created a year ago, triggered by a patient I met at the outpatient clinic. The patient was having routine follow-up after surgery. She told me it was so important for her to get emotional support from her family, other patients, and medical staff. She said before she undertook surgery, her grandson visited her and brought a heart-shaped note saying: "I love you, dear grandma! You will get well and come back home soon." " I can never forget the feeling of being cared and supported when reading the sweet note," she said. That inspired me: why don't we make a space for patients and their families to express their care and feelings?
After the board was set up, patients and their families were keen to write and post loving notes. We need to find a way to expand the board as there are so many of them. Cancer is the scariest word for lay people in China. The economic burden as well as the physical and psychological challenges are incredibly heavy for both patients and their families, so the atmosphere in a cancer hospital is usually very serious. The notice board, full of caring and encouraging words, sheds a beam of light on the gloomy mood. Some patients decided to leave their notes on the board after they were discharged, because they wanted "the note to help encourage other patients still in the ward." There are also many notes written by patients and their families to express their appreciation for medical staff. These are the best gifts for us. And patients reciprocally cherish the notes with best wishes written by doctors and nurses.
As an oncologist surgeon, I embrace every progress in surgical technology and anti-cancer treatment in my field. I am actively working on the application and promotion of medical approaches to achieve better health outcomes. I believe that new technology and medicine enables oncologist surgeons to provide the most efficient and individualized anti-cancer treatment, and patients can benefit from medical advancements through doctors' practice. However, science and technology is not the whole picture in cancer treatment.
Cancer is a disease that psychologically and emotionally affects patients and their families as well. I have heard from countless cancer patients and their caregivers expressing their worries, sadness, helplessness, hopelessness, as well as their experiences, values, and preferences. Patients definitely need appropriate medical treatment, but at least equally important, they need to be patiently heard, emotionally cared for, and supported by their families and health professionals. At the same time, patients, families, and medical staff appreciate the mutual understanding and trust. With the purpose of fighting cancer, doctors should work with patients and their families and better engage them in healthcare practice by listening to them, communicating with them, and being inspired by them.
Jiafu Ji is a surgical oncologist, the president of Peking University Cancer Hospital & Institute, and the president of International Gastric Cancer Association.
Competing interests: none declared.