Plans to defund Planned Parenthood in the US will damage women's healthcare choices, says Reena Aggarwal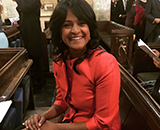 This Sunday was Mother's Day in the United States. Thousands of mothers, healthcare advocates, professional organizations, and supporters held a rally at the Jefferson Memorial, Washington DC, in protest against the American Health Care Act (AHCA).
A few weeks ago I wrote about the danger that women's healthcare faces in President Trump's America after the original failed attempt to pass the AHCA through the House of Representatives. Those predictions may now come true as the House of Representatives passed the AHCA by only four votes earlier this month. Donald Trump and his Republican colleagues celebrated on the White House lawn, yet millions of women have deep cause to worry.
The AHCA slashes funding for Medicaid, repeals most of the Affordable Care Act (ACA) taxes—including a tax penalty for not buying health insurance—rolls back Medicaid expansion, and allows insurers to charge higher premiums if they allow their coverage to lapse. Prior to the ACA, 1 in 6 Americans were uninsured—non pregnant women were twice as likely to be uninsured compared to pregnant women, and 25% of women of reproductive age were uninsured at some point over the course of one year. [1,2] The ACA expanded federal funding to state delivered plans to expand Medicaid eligibility, resulting in 20 million previously uninsured individuals gaining health insurance and women of reproductive age who did not have health insurance dropping by a third. [3] Today, Medicaid insures a large number of women of reproductive age (in 2015, 20% of women), is particularly important for vulnerable populations (particularly African American and Latina women), and it is estimated about 45% of all births in the USA are paid for by this program. [4]
Before the ACA, some states had considered several conditions that are common among women such as pregnancy, breast cancer, or a previous cesarean section, to be pre-existing conditions and they charged significantly higher premiums. Where the ACA had prohibited insurers from discriminating against women, the AHCA would allow states to waive this by giving insurers the right to medical underwriting of policies to charge those with pre-existing conditions higher rates. This would raise premiums for women who are pregnant, have had a previous cesarean delivery, have been sexually assaulted, been victims of domestic violence, or have clinical depression, and therefore make healthcare prohibitively expensive.
Another popular element of the ACA was the requirement was that all insurers cover an array of ten "essential health benefits" (EHBs) which spanned maternity care and preventive services (vaccinations, screening and contraceptive coverage) at no extra cost. The AHCA allows states to apply for a waiver to define their own EHBs which could exclude mental health or maternity care. For a country that has the highest maternal mortality rate (21 per 100,000) of high resource countries, denying women coverage to protect their reproductive health can only be a retrograde step.
By promising to prohibit federal Medicaid funds to Planned Parenthood for one year, the AHCA gained support from the conservative House Freedom Caucus votes. We await the Congressional Budget Office (CBO) score on the revised AHCA bill. The previous CBO in March had stated that stripping Medicaid funding to Planned Parenthood would result in loss of access to services amongst low-income communities since it is the only public provider in some regions. It also stated that the policy would result in thousands of additional unintended pregnancies that would be financed by Medicaid. Planned Parenthood is often the only healthcare provider in areas that are medically underserved making it a "safety net" for marginalized women. Despite comprising only 6% of the safety-net clinics that provided subsidized family planning services in 2015, Planned Parenthood clinics served 32% of women (nearly 2 million women) seeking contraceptive care at these centres. [5]
In 2015, Planned Parenthood helped women avert 822,300 unintended pregnancies, thus preventing 387,200 unplanned births and 277,800 abortions. [5] The US abortion rate declined 14% between 2011-14, and in 2014 was at the lowest rate ever since 1973 when abortion was legalized, which is attributed to education and contraception coverage. [6] Cutting off federal Medicaid payments to Planned Parenthood will limit the availability of the most effective contraceptives, as well as sexually transmitted infection and cancer screening services for many women on Medicaid.
Women's healthcare is at stake as the AHCA makes its way to the Senate. A 13 member working group put together by Senate Republican leader Mitch McConnell did not initially include any of the chamber's five Republican women. After much criticism, one woman was invited to attend a meeting about healthcare reform, but she was uncertain whether she would continue to participate after the day's meeting. As Cecile Richards, the President of Planned Parenthood has said, "When women aren't at the table, we are on the menu." It will be up to the women of America to have their voices heard to ensure that the gains that women have made in access to meaningful and affordable coverage are not in vain.
Reena Aggarwal is a specialist registrar in Obstetrics and Gynaecology and a research fellow at Ariadne Labs in Boston. Twitter @drraggarwal
Competing interests: None declared. 
References:
Institute of Medicine. America's Uninsured Crisis: Consequences for Health and Health Care. Washington DC; 2009.
Kozhimannil KB, Abraham JM, Virnig BA. National Trends in Health Insurance Coverage of Pregnant and Reproductive-Age Women, 2000 to 2009. Women's Heal Issues. 2012;22(2):e135-e141. doi:10.1016/j.whi.2011.12.002.
Gold RB, Starrs AM. US reproductive health and rights: beyond the global gag rule. Lancet Public Heal. 2017;2(3):e122-e123. doi:10.1016/S2468-2667(17)30035-X.
Sonfield A. Why Protecting Medicaid Means Protecting Sexual and Reproductive Health. Guttmacher Policy Rev. 2017;20.
Frost JJ, Frohwirth LF, Blades N, Zolna MR, Douglas-Hall A, Bearak J. Publicly Funded Contraceptive Services at U.S. Clinics, 2015.
Behind the Declines. Guttmacher Policy Rev. 2017;20.