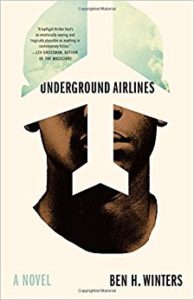 The Doctor's Book Club
Ben Winters Underground Airlines
My country tis of thee,
Late land of slavery,
Of thee I sing.
Land where my father's pride
Slept where my mother died,
From every mountain side
Let freedom ring! 
W E B Du Bois My Country 'Tis of Thee
Ben Winters's Underground Airlines begins with a mysterious search party. Victor, an undercover bounty hunter, is on a mission to track down a runaway slave named Jackdaw. A federal contractor and a former slave himself, Victor is exceptionally good at his job, with 209 captures under his belt. His search begins in Indiana around the turn of the century—the 21st century.
In Victor's world, President Lincoln was assassinated before the American Civil War took place. In the hopes of avoiding a national conflict, Congress enacted the Crittenden Compromise: six amendments and four resolutions that permanently solidified slavery in four southern states, while barring it from spreading to the north. A conflict was avoided, but the US—the only modern slaveholding nation—became internationally isolated, shunned by the United Nations and all democratic governments.
Victor lives in two Americas, each governed by two sets of realities and experiences. But this problem is neither ancient, nor farfetched. As Du Bois observed, "the problem of the 20th century is the problem of the color line." Underground Airlines asks if this may be the problem of the 21st century as well—both in Victor's world and in ours.
Winters's description of the healthcare system in this alternative world is particularly intriguing as it exposes the fact that the system, even in the free north, is still plagued by segregation and inequality. It is a reality that is all too familiar to Victor—a knowledge he uses to his advantage in his work. Because Victor knows that Jackdaw would require medical attention after his complicated and violent escape, he searches for the type of doctor who would be willing to see a black, uninsured, and undocumented patient. Those, he knows, are a rare find.
He easily locates Dr Elizabeta Venezia-Karbach because she, unlike most other physicians, "accepted all health plans and dedicated one third of her appointment slots to the uninsured," stating that healthcare "is a basic human right." She is, in this way, an anomaly, choosing to close "a thriving suburban practice to open a storefront clinic in Haughville, a historic working class African American neighborhood north of Freedman Town."
Winters deliberately portrays a healthcare system in which a doctor providing medical care to those who need it most is rare enough to be used as an identifier. It is, in this way, a critique of a world so broken that even doctors lose sight of the basic tenets of their profession. Yet it is a critique of our world as well. After all, isn't a less dramatized version of this issue also common in our medical system?
While today's physicians are not faced with the dilemma of treating runaway slaves, increasingly heated conversations about immigration and legal status are throwing doctors into a political crossfire. Who, in today's United States, is entitled to healthcare and whom are doctors supposed to treat? In a country without universal healthcare, does Dr Venezia-Karbach's belief that healthcare is a basic human right appear quixotic?
Our group struggled with these questions just as we struggled with the multitude of tensions created by the structure of medical training. How can the pressure to achieve financial success and prestige be balanced with the desire to treat the most vulnerable patients? And are we as physicians truly impartial in how we view those we treat?
Underground Airlines is a work of fiction, but art, as Hamlet reminds us, can hold a mirror up to nature. Segregation and bias come in many different forms. Levels of student debt have been linked to medical specialty choices and increased callousness of medical professionals toward their patients. At the same time, research has shown racial disparities in basic healthcare markers such as blood pressure, blood glucose, cholesterol, and glycosylated hemoglobin control. Multiple studies have revealed that these disparities are due to underlying implicit bias. But if these tendencies and biases are unconscious, what can we do to change?
There are, of course, no easy answers. But if change begins anywhere, it begins with awareness and conversation. Now, more than ever, we must pause and look at our own reflections.
Next Month:
We will discuss Jesse Ball's A Cure for Suicide.
Questions to consider:
-Is the "cure" in the novel truly a cure?
-If so, what is it meant to be a cure from?
-What does Ball seem to suggest about the nature of mental healthcare?
-Are medical treatments sometimes worse than the diseases they seek to cure?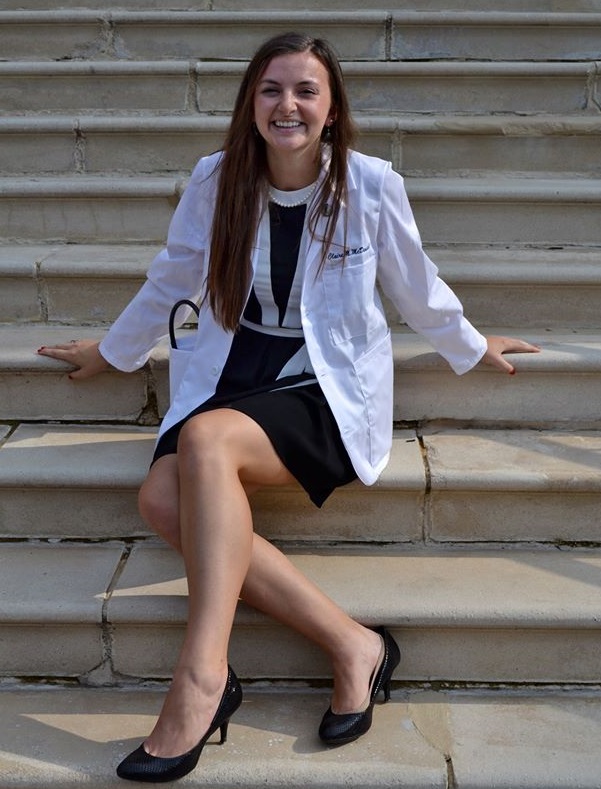 Claire McDaniel is a third year medical student at Georgetown University School of Medicine in Washington, DC, participating in the school's Literature and Medicine Track. Additionally, she is an MBA candidate at Georgetown University McDonough School of Business.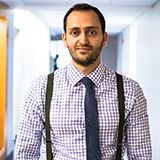 Daniel Marchalik is a urologist at MedStar Washington Hospital Center in Washington, DC. He directs the Literature and Medicine Track at the Georgetown University School of Medicine and writes a monthly column for the Lancet.