"Art washes from the soul the dust of everyday life." ~ Pablo Picasso
Working within the NHS it is easy to find oneself questioning whether our clinical work spaces reflect their vital therapeutic role. Too often our working environments are cold, harsh, and uninspiring. Nowhere more so was this the case than the junior doctor on-call room at the Maudsley Hospital in South London. Painted in an incandescent purple, and the resting place for old unwanted furniture, there was no sense that this was a workplace to value, or one that you felt valued within.
Inspired by increasing evidence linking workplace environments with mental wellbeing, we recently collaborated with junior doctors to improve the aforementioned on-call room. Initially we ran a workshop with the doctors asking them to draw images they associated with home, positive aspects of work, and their future aspirations. This provided us with unique inspiration to design a large mural that we hoped to be reflective of those working within the space.
The mural, which was funded by Maudsley Charity now sits proudly in the on-call room. Once a tired dumping ground, the room has now transitioned into a restful working space that values trainees and their contributions. The images above nicely document this process, although how an octopus fitted with the workshop themes remains a thought provoking question to this day.
In the face of worrying reports of worsening physical and mental health among doctors and other health professionals. We feel the importance of the physical environment should not be overlooked. Positive change to clinical spaces has been shown to be in everyone's interest, from patients, to practitioners to managers. The design of healthcare facilities has been found to be associated with improved medical outcomes. Going one step further and enhancing working environments, using visual arts, has been shown to reduce levels of anxiety, stress and depression, and increase staff morale. Where workers have input into this decoration, outcomes in terms of productivity and wellbeing, over and above those found when workplaces are simply decorated, have been observed.
Projects such as ours, and the exciting work of hospital rooms, show that there is a willing within the health service to support creative endeavours focusing on staff wellbeing. We hope that this project will inspire other healthcare professionals, to think proactively about how they too, can positively impact their working environment for the benefit of themselves, their colleagues, and their patients.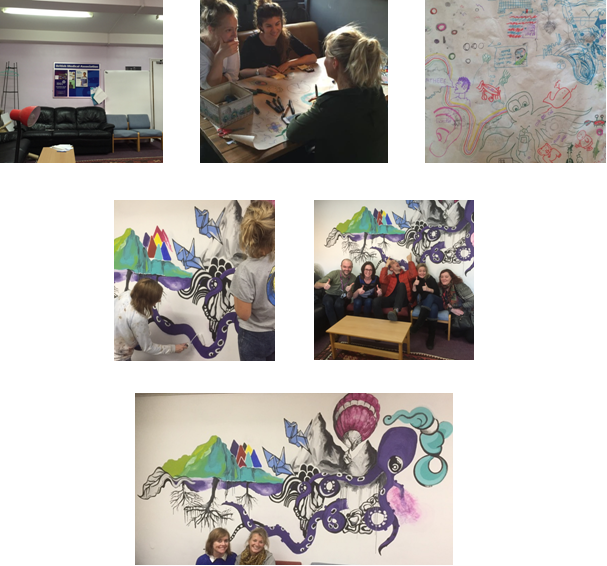 Will Marsh is a CT2 in psychiatry at South London and the Maudsley NHS Trust and sits on their Junior Doctor Committee.
Anna Rootes is both an artist and trainee art psychotherapist at Goldsmiths University.
Katherine Tully is a London based general practitioner. She has a special interest in care of the elderly and art as therapy.
Competing interests: None declared.