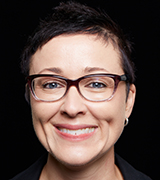 I began blogging about my experience as a person living with brain cancer after I had my first symptom—a grand mal seizure—after my 29th birthday in July 2008. Unlike a traditional journal, my blog has no privacy settings. People from around the world can read and learn, through my experience, about what it is like having brain cancer.
Earlier this month I was invited to Salzburg Global Seminar Session 553. The session focused on how transparency and a culture of "openness" might enhance patient-clinician relationships and improve the delivery of healthcare. A handful of empowered patients were among the cross-sector group of 50 health professionals from 11 different countries. Over a six-day period attendees shared experiences and reflected on what transparency currently means in healthcare, and explored the potential outcomes of increased transparency particularly in relation to granting patients greater access to their own medical information.
One of the best arguments I heard was from a physician who said, "Transparency is in the best interest of the patient because it is both ethical and logical." It is ethical, she argued, because information essential to patients must be disclosed, and patients must be well informed in order to make decisions. Transparency is logical because patients need information in order to be engaged.
I reflected on the value of blogging about my own experience, which is (in effect) my own form of transparency. Through logging my health and interactions with health professionals I am able to document my own medical history, and have been able to publically show that a frightening diagnosis has developed over time into something more akin to a chronic condition.
One of the most compelling presentations I heard in Salzburg was on the OpenNotes initiative in the US (see: The positive power of transparency). The movement is now extending beyond sharing full electronic medical records with patients to become OurNotes. This new project will be testing the concept and impact of patients adding to and updating their own electronic medical records in between clinic visits. Preliminary findings from a pilot study suggest this is an efficient way to increase engagement, prioritize patients concerns, and improve care.
I have often wondered how "clinical notes" written in my voice and captured in my blog could help clinicians better understand or learn from my self-care best practices. I believe a move toward OurNotes could achieve this. Furthermore, if patients were able to contribute to and update their own records, routine information (e.g. current medications, date of last menstrual period) could be provided by patients in advance of the consultation and provide clinicians with more face to face time with patients.
Another aspect of the seminar that got me excited was a glimpse at how new technology is attempting to put medical data into the hands of its rightful owner—the patient.
HugoPHR is an app designed to engage people as health data partners. It enables users to easily and securely collect and share their health information, including medical records and data generated from surveys or wearable devices. Users disparate health information is gathered in one place and this gives them the opportunity to participate in research.
MIDATA.coop is a similar, secure web-based platform. Designed by a group based in Switzerland, MIDATA.coop will allow individuals to gather health and other personal data in one place. Users will then be able to share data with caregivers, physicians, or opt-in to participate in research studies.
Both HugoPHR and MIDATA.coop are appealing for people like me—complex patients who are constantly shuffling medical records between a variety of specialists.
While I recognize my level of "engagement" is above average, I bristle when I encounter clinicians who say, "Not all patients are like you." This is clearly true and arguably no two patients are alike, but there is a steady rise in the number of empowered patients (Christian Fairman, Hugo Campos, Julie Flygare, Dana Lewis, Sara Riggare, and Michael Seres, to name a few) and a handful of these are conducting innovative "N of 1" research to improve health outcomes for both themselves and others.
But not everyone needs to be living with a serious or chronic condition in order to become more actively engaged in their health, and we need to make it easier—and dare I say it, fun—to do so.
We live in a world where virtually all industries are being disrupted, and healthcare is next. The desire for a culture of transparency and openness does not just come from us "sick people." This is what future consumers of healthcare expect—a group that will continue to grow as people are living longer with chronic conditions and serious illness.
It should come as no surprise that the people who are the largest consumers of healthcare will help lead this revolution toward transparency and openness… and we can only do this with clinicians as partners.
Liz Salmi is a communicator, designer, and advocate for openness. She blogs about living with brain cancer at TheLizArmy.com.
Competing interests: The costs of attending the Salzburg Global Seminar Session 553 were jointly covered by Salzburg Global Seminar and OpenNotes/Beth Israel Deaconess Medical Center.