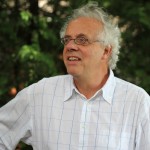 Richard Smith visited and wrote about the NHS in Dumfries and Galloway in 1980, 1990, and 1999, and this series of blogs describes what he found in 2016. A feature article provides a summary.

When I first visited Dumfries in 1980 the Crichton Royal, a psychiatric hospital, had extensive grounds and multiple buildings, including a church the size of a cathedral, a 500 seat concert hall, a swimming pool, and a prize winning rock garden; it had just relinquished its farm. There were 778 staffed beds in the hospital and an active research programme.
Now the buildings are occupied by two universities, and a new hotel incorporates the refurbished superintendant's house. The health board also occupies an extensive building that provides huge offices but is not a good use of resources. The new psychiatric hospital is spacious, light, and airy and has a garden designed by Charles Jencks—one of the world's leading landscape architects whose work is the most exciting feature in the grounds of the Scottish National Gallery of Art in Edinburgh. It has 85 beds and, unlike many psychiatric hospitals, it's rarely completely full. Four of the beds are in a locked ward.
There are 11 psychiatrists, which is low by the standards of the Royal College of Psychiatrists, but there are not the same difficulties with recruitment that there are in other specialties. One of the psychiatrists lives near Stranraer and is based mainly there, meaning that providing services there is not the problem it is for other specialties.
Psychiatry has long been team based and, similarly, relationships with social work are longstanding and solid. The team has been building services in the community for years, and the lack of pressure on inpatient beds is a testimony to the effectiveness of the community services. Although psychiatry hasn't splintered into subspecialties to the same extent as medicine and surgery, there are challenges in providing services for children and adolescents.
As I talked with the psychiatrists, I wondered if the dramatic emptying out of psychiatric hospitals could ever be emulated in acute hospitals. People across the UK have long recognised the need to build up services in the community, but, as I remember a politician saying about reducing the number of psychiatric beds, "Any idiot can close a hospital, but it takes talent to build up services in the community." The strategic plan for health and social care for Dumfries and Galloway commits to shifting services from institutions (hospitals and care homes) to the community, but acute hospitals are powerful attractors of resources.
Richard Smith was the editor of The BMJ until 2004.
Competing interests: None declared.