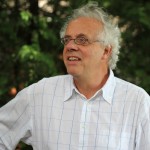 Richard Smith visited and wrote about the NHS in Dumfries and Galloway in 1980, 1990, and 1999, and this series of blogs describes what he found in 2016. A feature article provides a summary.
There are nine community hospitals across Dumfries and Galloway, and I visited the one in Kirkudbright, which is GP led. The hospital, which has 12 beds, is old but functional. It's been reviewed five times and was near to being closed. These hospitals are seen as a great asset within their communities, but expensive and not easily justified by health boards.
The Kirkudbright Hospital has been "mostly full" for the last 18 months, GP John Locke told me. About 70% of the patients are transfers from the hospital in Dumfries, and only half of those are local, meaning that some patients are a long way from home, which might be in Dumfries 27 miles away. The other 30% are admitted by GPs and most patients need palliative or social care with some medical cases being managed by the GPs.
About a quarter of the people in Kirkudbright are over 60 and 10% are over 75, and yet across the region there is a shortage of beds in care and nursing homes. This probably reflects the area being poor: it's hard for care homes to remain profitable if most of the residents are funded by local authorities, which pay low rates. Around Kirkudbright all are full and it's "dead man's shoes." Most of the homes are care not nursing homes, and steadily rising standards are causing some to close.
I can't help thinking that care homes, community hospitals, and primary care have more to offer an elderly population than a brand new hospital with sixteen intensive care beds, 30 miles away. The supply doesn't match the demand.
My conversation with Locke turned to the topic that arose everywhere: the difficulty of recruiting GPs. Locke sees four reasons: young doctors don't want to leave the Central Belt or other cities; the national shortage of GPs plus many GPs working part time; many GPs choosing to work as locums—because they can live comfortably on three days a week; and fear of partnerships with the complex business implications.
The nature of practising in the region is changing from a culture where everybody knew everybody and "mucked in" to help each other, to one where providers are more fragmented. Locke, who has practised in Dumfries and Galloway for 30 years, once knew all of the consultants in Dumfries, but he recently looked at a list of all the consultants and realised that he knew only 22 of 81. Similarly he once knew all the GPs but now doesn't. There were once many meetings between GPs and consultants but now there are few. And increasingly consultants are reluctant to travel to community hospitals to do clinics as they once did.
Richard Smith was the editor of The BMJ until 2004.