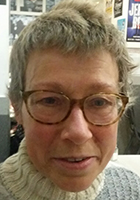 Five days after starting chemotherapy for lymphoma, I knew, in the night, that I had an acute abdomen and needed to go to hospital. The two paramedics who arrived were professional and efficient. As they quickly asked me sensible questions, I vomited copiously all over the tiled hallway. "You won't want to come home to that," said the first, and went out to the ambulance, returning with a pad and disposal bag, which she used to clean the floor. It was the first of many acts of kindness which would follow.
The surgeon I saw that night listened and responded to the concerns I had. He was also clear and direct, which was helpful. I would be under the care of the next day's team. I was aware of the growing pace and urgency and was grateful that the consultant who would operate came from theatre to meet me pre-operatively and we were able to introduce ourselves. This woman would soon be guddling in my guts—I was glad to meet beforehand face to face. I would continue to be grateful for her thoughtful management throughout my post-operative care.
I opened my eyes to the joy of being alive and the welcoming smile of the ICU ward sister, ready to check how I was and what I needed, and to orientate and explain, using humour to make a personal connection. On the efficient and well-organised ward, the nursing staff were highly technically proficient, yet gentle and ready to converse. The ward clerk went to great lengths to help with non- clinical problems and all staff were helpful and accommodating to my visitors. The visiting haematology team made careful, regular, expert reviews and communicated well with me and with the ward team. The physiotherapist who brought fun and stimulation also brought a reassuring continuity as my first visitor following my move to a general ward.
To be a patient on ICU can be like a return to babyhood, with dependence on others for basic needs. To hand oneself over requires trust. This is given much more easily when one feels treated as an individual by skilled and considerate people.
Care on the general ward to which I moved was less intense and technical, but my general feeling of being looked after continued. A few small incidents stand out in my memory.
The nurse who changed my tight TED stockings paused to ask me if I had any moisturiser. She used this to gently massage my legs, feet, and toes before replacing the stockings with a carefully measured pair.
Once eating again, I was tremendously hungry, and my heart sank when I realised a delayed CAT scan would mean I'd miss the evening meal trolley. I returned late to the ward to find that the nurse looking after me earlier had noticed and had put aside a carefully chosen feast.
A friend phoned to ask if she could visit briefly outside of visiting hours as she'd be passing. The reply was "just let me check that's alright with Sally," and I was pleased to agree.
I had two perforations of my small bowel at a time when I was already ill with a lymphoma and had greatly reduced immunity. I needed expert, technical attention and I received this. It was delivered with thoughtfulness and kindness and I felt recognised as a person, beyond my pathology. An episode which could have left me frightened and apprehensive, perhaps with an adverse effect on further treatment and recovery, did not. My experience was of being safe in the care of skilled hands, connected to good hearts.
With sincere thanks to staff at University Hospital Lewisham and London Ambulance Service.
Sally Browning is a retired consultant psychiatrist, living and previously working in London.
Competing interests: None declared.