The comfort of food is not a concept readily accepted by institutions, be they hospitals, schools, or nursing homes.
As well as financial constraints—many NHS trusts in England feed inpatients for under £10 a day—there are the logistics of serving large numbers of people three meals a day.
This is vividly brought home by Feeding the 400—the latest exhibition at the Foundling Museum.
Opened in 1741 in London's Bloomsbury, the Foundling Hospital had looked after 27,000 children by the time it closed its doors on a site in Berkhamsted in 1953.
Given up by their mothers when they were babies under one, the "foundlings" were put out to wet nurses and foster parents, then admitted to the hospital between the ages of three and six, where they stayed  until they were old enough to work.
Once inside its walls they found a rigid regime, which paid some attention to nutrition, but little to the enjoyment of food. All meals were eaten in silence, boys segregated from the girls, and Sunday lunch was marked by parties of society women coming to observe the children.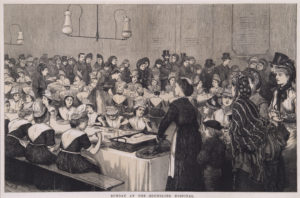 "The four hundred boys and girls go through the ceremony of dining (a sort of military evolution in this asylum)" Charles Dickens wrote in 1853 after a visit to the hospital.
The food was definitely better than that in the workhouse "porridge made with milk not water," points out food historian, Jane Levi, curator of the exhibition. "But it was also a firm indicator of social class.  The bread came from Harrods, but it was always brown for the foundlings and white for the staff because that was considered more refined," she said. Staff had a cooked breakfast on Sundays while the foundlings contented themselves with pinching bacon rinds from the leftovers.
And good intentions did not always find their way to the long refectory tables. In 1813 it was discovered that a supplier had been delivering skimmed milk, rather than the full-fat ordered, for 20 years, costing the hospital £200 a year—the equivalent of £12,000 today.
In the early days meat for lunch featured only three days a week and supper consisted exclusively of bread. The hospital consumed 1,635 lbs of bread a week. Half an ounce of butter was allowed on Sundays. By 1937 meat or fish was included in lunch every day. But meal times were not relaxed occasions.
"Every day was the same and a lot of the food was pretty ghastly—fatty and stodgy," says Lydia Carmichael, aged 84, who was placed in the care of the Foundling Hospital in 1932 when she two months old and left when she was 15. "There were no treats, or biscuits, and no birthday celebrations.  You had to eat everything on your plate so we girls used to take the fat off the meat and hide it down our long knicker legs."
"To this day I can't stand semolina or macaroni," she added. In contrast to the diet Lydia, a former manager of a GP practice, recalls the medical care as very good with frequent visits from GPs.  A stay in the infirmary sometimes meant buttered toast.
But if enjoyment was not one of the governors' concerns, equity was. One of the most poignant objects in the exhibition is a letter refusing a supplier's offer of broken biscuits—because it would be impossible to ensure equal shares for each child. At Christmas 1938 it was agreed each child could have a half pound box of Cadbury's chocolates.
Clive Grindley, a retired insurance broker, aged 81, who lived at the Foundling Hospital in the 1940s, also remembers good, pre-NHS medical care, in the "emotional desert" that was life as a foundling. An outbreak of polio in 1948 was confined to one boy, a testament to the healthcare, he thinks.  But the food was a different story:   "I don't think anyone was undernourished—I am over 5ft 11inches—"and I only remember one fat boy," he said.
"But food was just something you got through as fast as possible. To this day my son says 'Dad don't eat so fast, nobody is going to steal your food'"
Feeding the 400. The Foundling Museum, 40 Brunswick Square, London WC1N 1AZ, until January 8 2017. Open Tuesday to Saturday 10.00-17.00, Sunday 11.00-17.00. Closed Mondays.
Photos: The boys' dining room, Foundling Hospital Berkhamsted © The Foundling Museum.
Joseph Swain, Sunday at the Foundling Hospital, c1872 © The Foundling Museum.