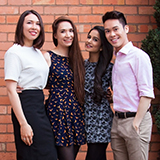 "To save a life or to make it better for someone else is why I chose to do this job. The thanklessness of it, however, has never dissuaded me from doing what I do everyday." – Emergency Medicine Consultant 
"The patient that sticks in my mind is a young guy who had crashed his car. He had been thrown out of the car. As soon as we released the car from him, he would pass away. There was nothing we could do. He was 17. I was with him until the end. Myself and the police officers. To me it was important that he wasn't on his own. Regardless of how he was driving before." – Paramedic
These are just two of the millions of stories that NHS staff members have to share. Day in and day out, they work on the front lines to deliver care to our poorly friends, family members, and loved ones. They are the knowledgeable faces that answer our endless streams of questions. They are the comforting shoulders that are there for us in our darkest times. But how can we support our NHS staff members in return?
Recently, the political climate surrounding the NHS has undoubtedly been turbulent. The NHS has endured immense criticism at the hands of mainstream media, and as medical students, we found this to be extremely disheartening. Through our clinical attachments in hospitals, NHS staff have inspired us with innumerable acts kindness and feats of heroism every single day. But this side of the NHS isn't being shown to people on the other side of NHS doors. It's time we change this and restore balance to the NHS narrative. And we firmly believe we can accomplish this by celebrating the humans of the NHS.
Humans of the NHS is an independently-run project started by four medical students. Our mission is to show everyone who the NHS really is and what it means to work in the NHS. It all started one day when Jonathan said to us, "What do you guys think about starting a Humans of New York project… but for the humans of the NHS?"
We created Humans of the NHS to provide a positive alternative narrative to the negative mainstream rhetoric that surrounds the NHS, and we do so by sharing stories from NHS staff members across all roles. We aim to restore balance to the NHS narrative by celebrating the incredible people that patients and their family members only meet in their darkest hours. We provide a platform to give NHS staff members across all roles individual voices, from receptionists to healthcare support workers and catering managers to doctors. It is our privilege to capture and share these voices and stories through our official social media platforms.
The stories we share showcase the humanity and compassion that exists within the NHS, a seemingly cold and machine-like entity. These acts of genuine kindness are not taught or scripted, but are accomplished and experienced by hundreds of thousands of people each and every day. The NHS is made up of a unique set of individuals who each bring extraordinary qualities to the table. And we firmly believe that a mainstream platform to celebrate these remarkable individuals is the way forward.
Running this project has greatly influenced the way we see ourselves as future doctors and has shown us the importance of celebrating everyday successes. Listening to and sharing these stories has also motivated us to persevere through the pressures of balancing this project and being final-year medical students. Most importantly, it has shown us how generous, devoted, and powerful people can be if united together by a shared goal. Every time we think about this, we are reminded why we study medicine.
Want to be featured on our page? E-mail us at HumansoftheNHS@gmail.com to get involved!
Ilona Blee, Pareena Patel, Natalia Powers, Jonathan Tsun, Humans of the NHS Team. @humansoftheNHS 
See below for an example from the project: