The case for increased attention to and better management of sepsis is growing. As the first World Sepsis Congress convincingly demonstrated, international and national healthcare authorities, NGOs, policy makers, clinical scientists, researchers, and pioneers in healthcare improvement need to work together to reduce the burden of this disease.
Patients and family members are also among the pioneers of this new sepsis movement. The World Sepsis Congress provided a forum for learning from their stories and endeavours too.
I myself am a sepsis survivor. As a physician, I have myself to blame for not spotting the early warning signs too. I can relate to the fact that the clinical management of sepsis includes many hurdles and obstacles, which healthcare staff and patients should not have to face. At the same time, I can relate the stories of patients and families who have been affected by sepsis to the stories of those patients working to get their voice heard on the subject of patient safety. In 2005, we were at a very similar point in our movement to form networks and partnerships as Patients for Patient Safety (see my previous blog). We started to move from being the "victims" of errors, failures, and oversight to becoming key actors in this area.
As was the case for patient safety, becoming engaged in improvements and change appears to be a good way for patients and families to cope with the grave consequences of our "too close encounters" with sepsis. As in patient safety, too, there is a lot of certainty in each individual case about what could have been done to prevent this—and there are a number of best case examples.
As a starter, physicians or nurses should know the new clinical case definition of sepsis. In the US and the UK public campaigns provide supporting materials (see below for examples).
Graphic from the CDC's sepsis factsheet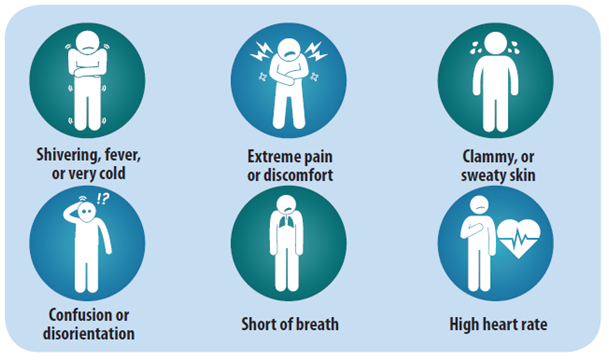 NICE: "Sepsis is just as urgent as heart attack"
NICE: "Pathways for diagnosis and treatment of sepsis"
Matthias Wienold, MD, mph, has been working with patient organisations since 1986. He is board treasurer for the International Alliance of Patients Organizations and is also a member of The BMJ's patient panel. 
Competing interests: See Matthias's profile on The BMJ's patient panel page.